B2B content marketing is booming.From Google's constantly evolving algorithms to shifting consumer expectations, there are a ton of reasons why content is this decade's marketing must-do.
But we all know that when you're wearing a million and one different hats it can be hard to make time for an expert 2K-word article each week.
So as content marketing creeps down your to-do list, it's time to review your content options and ask some important questions:
Which content tasks are worth doing in-house and which ones are better left to a pro? How many hours should you and your team spend on this stuff? And how do you know if it's time well spent?
Confused? Don't worry—we're here to help. This unmissable FAQ will help you figure out whether to stay in-house or outsource, how to create a droolworthy content strategy and how much time awesome content really takes.
Check it out!
B2B content marketing FAQs
What is B2B content marketing?
How can crappy B2B content marketing affect our company?
How much time should we spend on our B2B content marketing?
B2B content marketing: in-house or outsource?
B2B content marketing: A real look into how much time it takes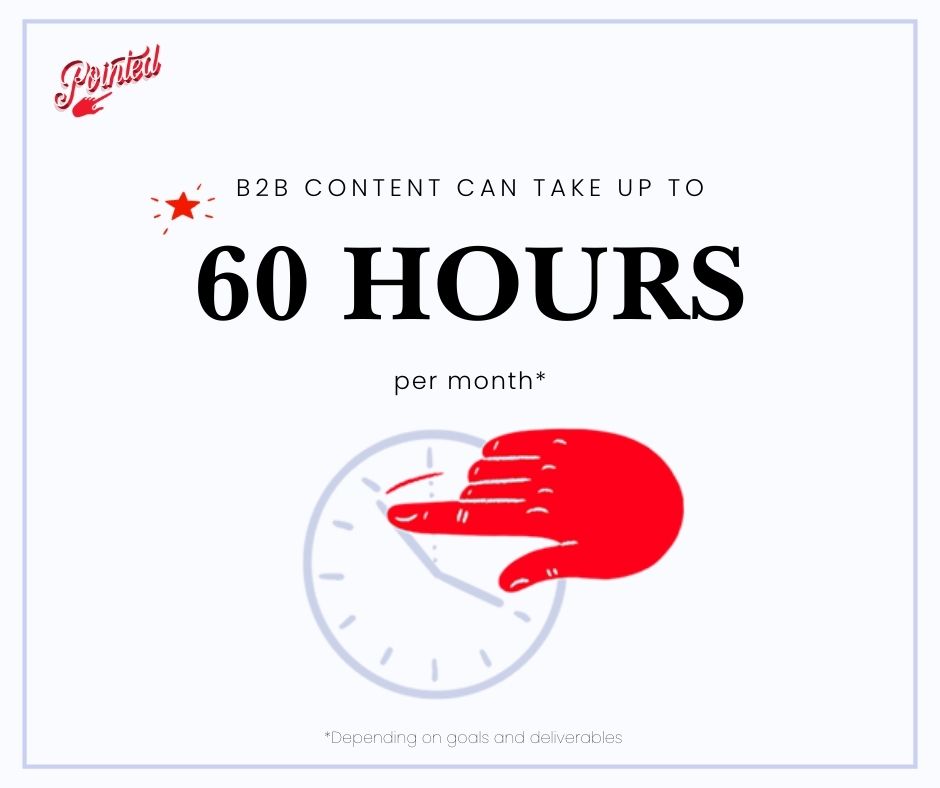 Based on a simple content strategy of roughly four assets per month, we estimate that B2B content marketing can take roughly 60 hours per month.
What is B2B content marketing?
Just so we're clear, B2B content marketing (AKA business to business) is any content strategy aimed at selling products or services to companies as opposed to individual consumers.
But it's about more than just getting to know your business customers (although that's important too), B2B content marketing focuses on the specific needs and industry expertise expected by key decision makers at high-flying businesses.
To hit the right note, you need in-depth industry knowledge (or A++ research skills), plus expert word-smithing abilities to convince a number of stakeholders (7 to 8 to be exact) to spend their limited departmental budget on your services.
Well, we never said it would be easy…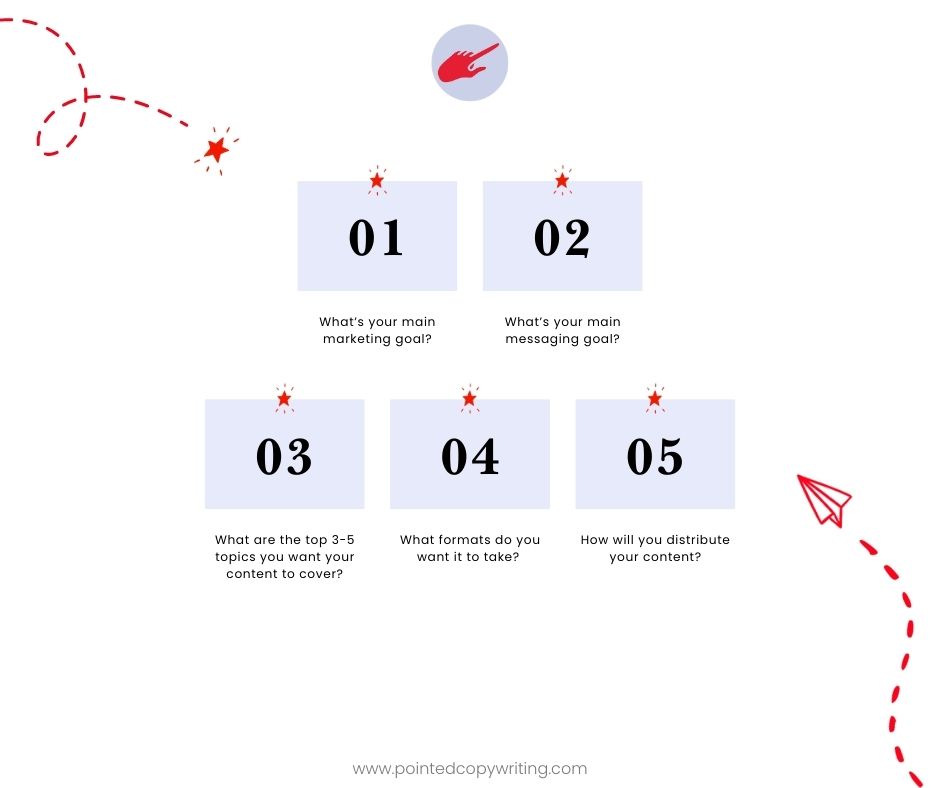 How can bad B2B content marketing affect your company?
If you're hoping to sell your product or services to B2B buyers, there's one mantra to take away from this article: No marketing is better than crappy marketing. 
Here's why:
Poor content decreases the probability of a sale by 40%.
A single bad content experience makes users 88% less likely to visit the website again.
Less than 50% of digital content is found useful.
And trust us, you don't want to be caught on the wrong side of content marketing like so many other brands.
Lucky for you, research shows us exactly what business consumers want from brands. So follow these three simple rules to make sure your content hits home every time:
Consistency is key: Brand consistency has proven to draw customers in again and again, and can increase revenue by around 25%.
Authentic content = great content: Over 86% of people say authenticity matters when choosing their top brands. That means showing you know what you're talking about and you mean what you say.
Lead with purpose: According to Deloitte's 2020 Global Marketing Trends report, purpose is everything. "Companies that lead with purpose and build around it can achieve continued loyalty, consistency and relevance in the lives of consumers.". In other words: knowing your 'why' is the ultimate brand-builder.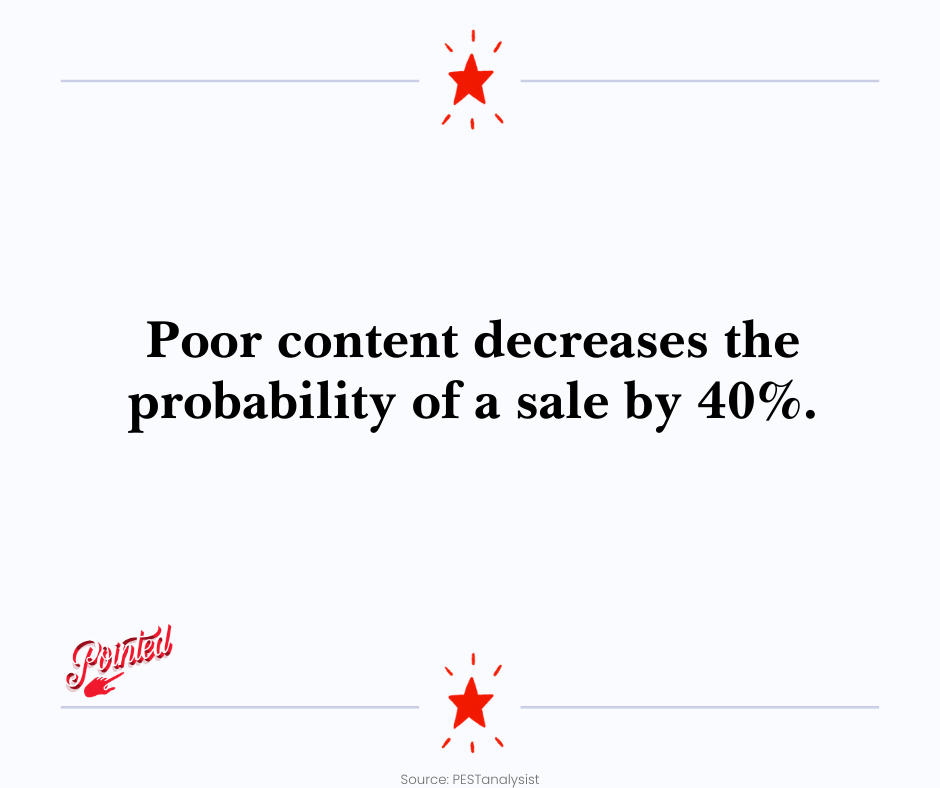 How much time should we spend on our B2B content marketing?
Now, for the math. Figuring out how much time to invest in content marketing is like asking the proverbial 'How long is a piece of string?'
In other words: there's no definitive answer.
How long you choose to spend on it is down to your business goals, audience and what you hope to achieve with your content—and that's different for every single business out there. At Pointed, our content strategy for SaaS companies has three key components (thought leadership, customer-led and search/awareness driven) but these can be broken down across a variety of sales strategies and distribution channels. For example, a bootstrap one-sector niche SaaS business that is focused on growing qualified traffic will require a different approach from a multi-industry SaaS product that already has high traffic volume and now needs to convert visitors into users.
Despite the variables, there are some solid starting points to help you figure out what this means for you:
Know your strategy: Once your B2B content marketing strategy is in place, you'll have a better idea of how much time you need to invest. Your goals will reflect your ultimate ROI, showing exactly what your time is worth.
Figure out the tasks you need…: There's so much more to content marketing than writing a blog and hoping for the best. At the very minimum B2B content marketing includes content ideation, SEO strategy, audience tracking, writing awesome content, upgrading old posts, reporting and content promotion. Phew! That's a lot.
…Then ask yourself how long those tasks take (realistically): Research shows it takes on average 3hrs 57mins to write an original blog post. When you add in all the extras we listed above, you've got yourself a full-time job.
When it comes to content marketing, time = quality. The more time you put in, the more you get out of it. And if you want to get higher revenues, stronger customer relationships and a super trusted brand, you need to invest as much time as possible into B2B content marketing.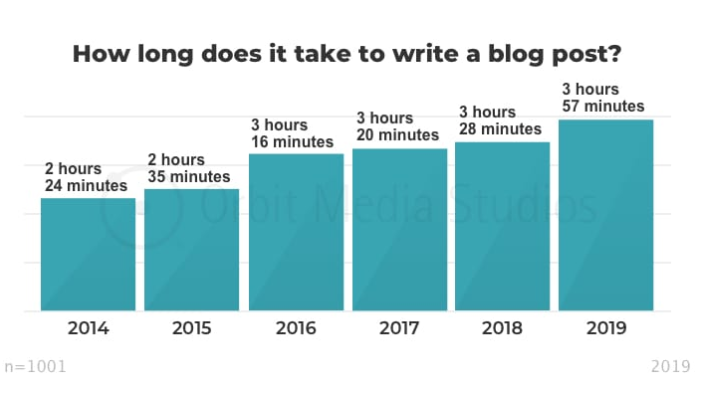 According to Andy Crestodina and the good folks at Orbit Media, the more time you invest in your content, the better the results.
B2B content marketing: in-house or outsource? 
Some companies will attempt to tackle B2B content marketing in-house, while others outsource to dedicated B2B content wizards.
Which is better? The answer isn't straightforward—different companies choose different paths depending on budgets, company needs and audience.
Here's a breakdown of the two main types:
In-house content marketing
It's mostly larger companies who opt for the in-house route—the main reason being they have the cash to do it (think: payroll, benefits, pensions, health insurance, etc).
If you have the budget, in-house is great: your employees are together, so they can bounce ideas off each other without ever having to schedule a meeting.
But the downsides are tangible: in-house marketing pros are often expected to wear other hats too—meaning their time for content-focused tasks is much less than their outsourced counterparts—plus they're at risk of defaulting to internal biases and losing their ability to step back and take an objective approach.
Outsourced B2B content marketing
A huge 62% of companies outsource their content marketing to super talented content writers and creators who specialize in delivering high-quality content through an objective, data-driven approach.
From content creation to editorial planning, there are a ton of specialized tasks that dedicated content marketing companies can provide. Plus, outsourcing can solve some of your businesses biggest content challenges, including:
Accessing specialized talent to help translate ideas into reality.
Staying ahead of the content curve.
Understanding the technical side of content, like SEO and keyword research.
In other words: outsourcing is an awesome choice to utilize on-demand talent from people who are trained solely in creating killer content every time.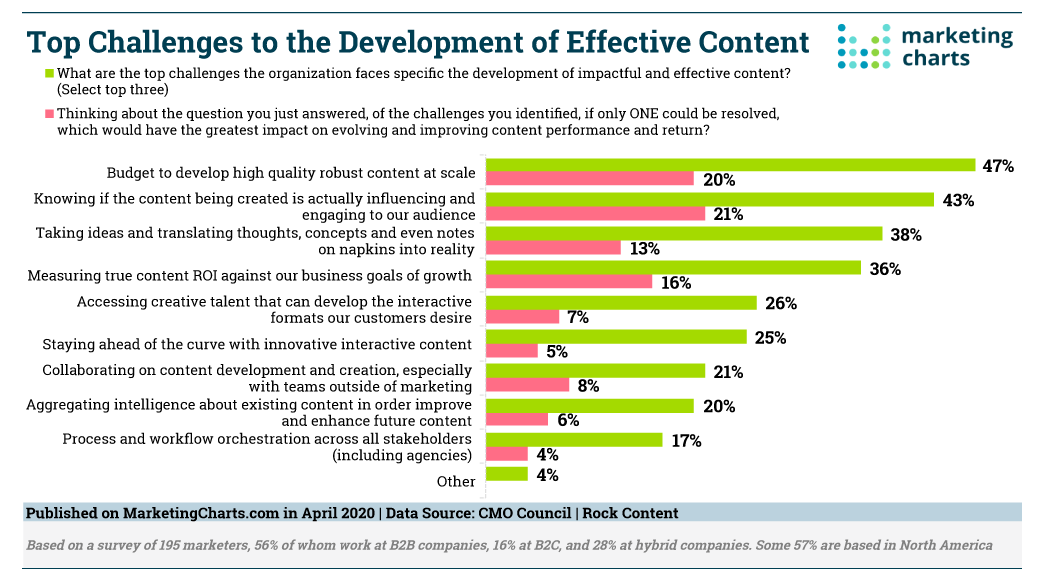 According to a recent report by the CMO Council, many B2B content marketers struggle to decide which ideas to take forward and how to measure their effectiveness
B2B Content Marketing: A real look into how much time it takes
Know your audience (approx. 20 hours)
In a world where 89% of consumers expect companies to understand their unique needs, knowing your audience is more important than ever.
And the best way to get to know your customers? With an all-important brand persona.
Brand personas will influence every part of your business, so getting it right is a must. According to a NNGroup survey, this should take a small business an average of 22.5 hours to complete.
Step #1—Research: A great brand persona starts with great research. Gather a list of potential customers and do some hardcore analysis. Ask: Who are they? Where will you find them? What are their pain points? What makes them tick?
Step #2—More research: Delve deeper by finding websites, articles or interviews written by your ideal customers. Look for direct quotes that explain more about their lifestyle, ambitions, challenges and characteristics.
Step #3—Draft your persona: By this point you should have an idea of who your potential customers are, what they need and how you can help. Take these points and draft a character. Remember: No detail is too small, you can even choose their eye-color if that helps you picture who you're talking to. 
Decide your goals (approx. 2 hours)
Once you've figured out who you're talking to, it's time to create clear, concise goals.
Remember, B2B content marketing exists to strengthen company aims, increase revenue and boost your stance as an industry leader—so it's super important that content goals link in with overall biz goals.
An expert content pro can help you answer these questions and plot your content goals:
What's your main marketing goal: A) generate leads, or B) boost conversions?
What's your main copy/content writing goal? A) SEO, B) Increase awareness and authority, or C) Boost conversions
What are the top 3-5 topics you want your content to cover?
What formats do you want it to take?
How will you distribute your content?
Plan your time (and content calendar) wisely (approx. 4-6 hours per month)
To make the most of content marketing, your team needs to be 100% behind the strategy—that means conversations, planning and lots of meetings.
According to an HBR report, most orgz spend about 15% of their time in meetings. And when you match that against the fact 37% of meetings are considered a waste of time—well, you do the math.
Outsourcing allows you to pass the time-burden to an external team, who are trained to create killer content on time and with minimal fuss. That sounds like a no-brainer to us.
Create your content (approx. 30 hours per month)
This one all depends on the previous step. But for the sake of simple math, let's say you'll create 1 blog post with accompanying images, social and email copy per week.
Here's how much time that could likely take each week:
Write blog post – 4 hours
Create and/or curate images – 2 hours
Write social copy for 3 channels – 30 minutes
Write email copy – 1 hour
Total: 7.5 hours per week * 4 weeks = 30 hours per month
Keep on track (approx. 2-4 hours per month)
Your B2B content marketing strategy is a live document.
That means you're not going to write it, put in a drawer and then forget about it. Instead you need to keep revisiting and updating the original doc based on your tracking and reporting.
And as anyone who's ever worked anywhere knows—reporting takes time.
We've said it once, and we'll say it again: outsourcing = less time on content + more time for everything else.
Consistency = Real results
Working out exactly how long it takes to ace B2B content marketing isn't easy—as with anything worthwhile it takes solid planning and real talent to hit the big time.
From creating awesome content to regularly revisiting your strategy, the only way to win big is to make sure you consistently ace every step on the way—because the more consistently you execute, the less time it takes to see real results.
That means following these four steps:
Figure out how long your strategy will take to execute.
Decide whether in-house or outsourcing is the route for you.
Create a killer B2B content marketing strategy.
Create consistent, authentic content and lead with purpose.
In 2020, B2B buyers are more discerning than ever before. So whether you decide to tackle your content yourself or hire a group of external experts to help, make sure your content development process empowers your team to deliver a quality result every time.
Want to become a true B2B content marketing pro? Bookmark this article for future ref!
Maddy Bartlett is a freelance B2B copywriter and content specialist. As a former environmental communicator, she believes in working with socially conscious brands to create an impact beyond words. She recently moved to the English outback to focus on what she loves best: growing food, writing and hiking the Dartmoor Way. Find her on LinkedIn.