How to Increase Traffic by 95% in Your First Year with Content Marketing
Everyone says content is king. But what does that even mean?
The idea of carving out a clear strategy, creating content, then finding affordable ways to promote it is enough to send any bootstrapped startup into a tailspin.
Not Follow Up Boss.
From day one of their content marketing strategy, SaaS growth strategist and former Head of Growth at Follow Up Boss, Dave Lawrence was all about fluff-free, customer-led content. (In fact, I think it might've been Dave who coined the term 'Customer-Led Marketing'. ?)
The result was a 95% increase in website visitors from 253,000 to almost 500,000 in the first year doing content marketing with just three blog posts per month.
That's it. No pricey ad campaigns. No linkbuilding.
Fast forward two years later, Follow Up Boss now has over 1.6 million unique visitors annually, a 20% month-over-month increase in organic traffic to the blog, and one of the highest-engagement websites in their niche, achieving an above average rate of positive comments and shares across social channels—despite publishing less content than their competitors.
Today we're going to break down the exact process we used to help Follow Up Boss grow their website to over three million unique page views per year in a highly competitive niche.
The Backstory: A Customer-led Approach to Content Marketing
How to Use Content to Grow Quickly and Independently
Reach 3+ Million Page Views with Just 4 Actionable Blog Posts per Month
Add Linkbuilding to the Mix to Maintain Growth and Boost Core Pages
Why It Worked
What's Next for Follow Up Boss?
Let's face it. For most startup marketing teams, handing over a chunk of your budget to tech giants for ad spend is off the table.
And who really wants to email hundreds of strangers hoping one of them will provide a backlink? No, thanks.
Countless early stage SaaS companies find themselves in this exact pickle.
While it's easy to imagine startup founders rolling around in VC-backed or angel-investor funding, 99% of these visionaries get funding through savings, loans, and pure grit.
As a 100% self-funded SaaS startup, Follow Up Boss wanted an organic content strategy to support their organic growth philosophy.
During our initial introduction, we learned that co-founder and CEO Dan Corkill had already established a solid customer base through referrals and word of mouth.
The goal was to increase organic traffic while keeping the paid ad budget low.
While many funded startups often use their bigger marketing budgets to immediately launch a highly SEO-targeted blog, email campaigns, and all the accompanying bells and whistles, Follow Up Boss took a different approach.
And it paid off.
Use Content to Grow Quickly and Independently
Because Follow Up Boss was focused on maintaining a swift yet sustainable growth trajectory, we launched a minimalist customer-led content strategy to scale their results over time.
But first, we needed to know a few key details. We built out a brand brief to drill down into the voice and core differentiators that would separate our content from the rest.
Here are some of the questions we covered:
How is Follow Up Boss different from other real estate CRMs?
What are the product's three most unique functions?
What makes Follow Up Boss customers tick?
With these core questions answered, we had everything we needed to uncover their target buyer's core pain points and motivations and create content that would show our readers how Follow Up Boss solves their business challenges better than anyone else.
Next, we needed to take a closer look at the kind of content we were up against. When we looked at other resources and blogs for real estate agents, we noticed that:
They lacked depth: Often just high-level coverage of a topic full of fluff and jargon.
They weren't actionable: Because of how fluffy they are, it's very difficult to take those concepts and roll them into action.
They weren't relatable: Competitive content focused on the high points rather than getting under the fingernails of the realities facing today's real estate agents and team leaders.
Real estate agents lack detailed, researched, actionable content.
With this in mind, our value prop for the Follow Up Boss blog was to become the destination for ambitious agents and team leaders to learn mindset, strategies and tactics for growing their real estate business faster and avoiding the pitfalls of those who came before them.
With a documented content vision and strategy, we got to work narrowing down our best topics and formats.

Follow Up Boss has the highest average engagement rate among its top 5 competitors, despite publishing significantly less content.
Reach 3+ Million Page Views with Just 4 Actionable Blog Posts per Month
Dave Lawrence, SaaS growth consultant and former Head of Growth at Follow Up Boss, identified early on the power of personal success stories in the real estate business community.
Together, we built out an interview format that combined an interviewee's personal experiences with a step-by-step breakdown of their best-performing processes for booking more appointments using Follow Up Boss.
We called it the 'storytelling how-to'.
The approach was simple. Reach out to customers we know are killing it and offer to feature their story on the blog. If Follow Up Boss was a part of that story, we'd include the exact steps for how the customer used the product to get tangible results.
We talked to real people doing incredible things in real estate, including agents, brokers and team leaders from all walks of life:
A college dropout
A 65-year-old entrepreneur
An entrepreneur who migrated from the UK
Married couples who teamed up for success
And more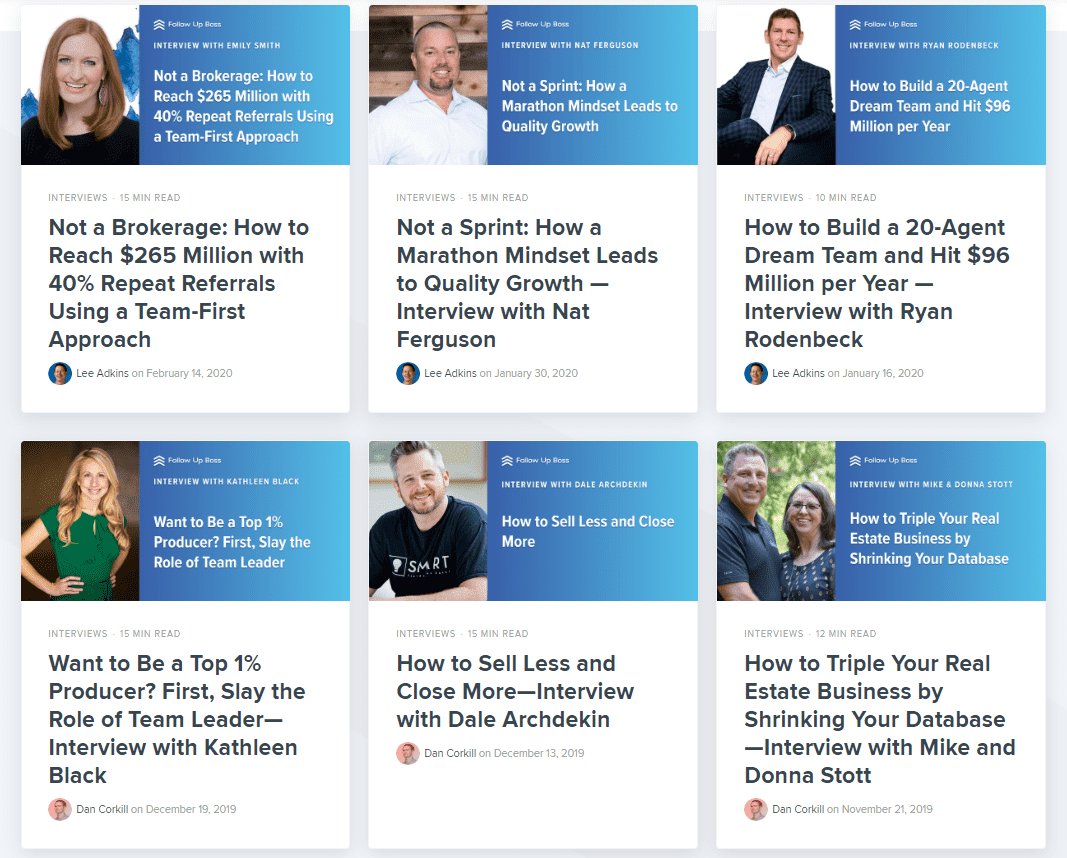 We're constantly checking in with Follow Up Boss customers to find out, step-by-step how they use the product to win more business. See the entire library of Customer Interviews here.
At this stage, SEO auditing and keyword research weren't a big part of the game plan.
To come up with topics for our other two articles, we again went straight back to our audience. We nosed around on Quora, Reddit and in Facebook groups to find out what people were asking, complaining and arguing about and created deeply specific, actionable articles around those topics.
Follow Up Boss posted each piece of content to their public Facebook page and this was the only distribution we did.
It was simple, successful and totally doable from a team and budget perspective. But eventually, it was time to up the ante.

Today, the Follow Up Boss website has over 3.3 million page views annually.
Add Linkbuilding to the Mix to Maintain Growth and Boost Core Pages
About a year later, it was time to step up the game. We'd already seen great success by creating high-value content that solved real problems for our audience.
Now it was time to ramp up distribution and show everyone we had the goods.
In May 2018, we partnered with Stewart Dunlop and the team at Linkbuilder.io on two core strategies:
Publish guest posts on influential blogs
Build high-value links
From the first day of the campaign, the linkbuilding team was armed with a rich pool of high-quality content that made it easy for them to establish authentic connections with high authority sites. The team at Linkbuilder also identified high priority keywords to tackle through linkable assets hosted on the Follow Up Boss blog.
Because the linkbuilding team was armed with quality content, many of their outreach responses earned links.
We secured guest posts on high DA blogs like Hubspot, LeadPages and Business2Community and landed page one positions for high priority keywords like 'best real estate CRM' and 'real estate lead generation'.
According to Ahrefs, Follow Up Boss's organic positions are worth $57,000 per month (if we were to buy up those same spaces and click volumes using paid ads on Google).
None of this would have been possible if we didn't first build out great content for the Follow Up Boss site.
Today, Follow Up Boss has scaled to 45 employees without reaching into the pockets of outside investors.
By starting with a clear focus on Follow Up Boss's target buyer and brand differentiators, we were able to grow our brand presence, traffic, leads and revenue, without sacrificing the integrity of our content and messaging.
Despite the fact that we only produced an average of four blogs per month, we saw a compounding effect that has contributed to steady, deliberate growth for the Follow Up Boss website, and the company as a whole.
What's Next for Follow Up Boss?
Today, Follow Up Boss is one of the leading voices in the real estate CRM niche, and in the greater real estate industry as a whole.
Here's an overview of where the content strategy is today:
Two client interviews per month
One new keyword-targeted post per month
Consistent content hygiene to make sure existing articles continue to perform
At Follow Up Boss, all departments — product, customer support, sales, and marketing — are constantly in touch with their customers, which means new insights and tactics are emerging every day.
By adding new use cases and customer-led insights to existing content assets, we're able to maintain organic growth and grow the ROI on existing content without having to reinvent the wheel.
Since Facebook has been a great way to stay on pulse with the real estate industry from the start, Follow Up Boss has created a private Customer Success community to stay on top of customer questions, suggestions, and feedback in real-time.
In 2020, Follow Up Boss partnered with leading real estate coach Lee Adkins to host the customer interviews and spend more time experimenting with video.
For this, we use Wistia because it allows us to:
See which interviews and interview clips are getting a significant reaction
Use insights to determine which opt-ins to create for which articles and topics
Avoid over-investing in conversion funnels
With this simple, focused content marketing strategy, Follow Up Boss is maintaining month-over-month organic traffic to the blog at a rate of over 30%.
Looking at the last six months, Follow Up Boss's organic traffic share has shot up to 30+%. This a stellar indication that the market presence is growing without spending a fortune on paid ads.
Armed with a rich library of across-the-funnel content, Follow Up Boss is well positioned to capture web visitors at every stage of awareness.
This strong foundation of organic traffic and leads also allows the Follow Up Boss team to take more calculated risks with their paid ads budget.
But perhaps the most exciting update for Follow Up Boss is the recent addition of Andrew Szatan, ace SaaS marketer and former Senior Director of Marketing for OutBound Engine, as Head of Marketing.
In 2020, Andrew and the team at Follow Up Boss are evolving their customer-first content strategy into a sales coaching and development platform for customers called The Boss Method.
Less than three years into content marketing, Follow Up Boss is moving from a strategy of just three blogs per month to launching a first-in-kind resource platform packed with highly-targeted, actionable sales content for their readers and customers.
When you invest the time, attention, and resources into consistent, customer-driven content marketing — you're going to see cost-effective growth over time.
For Follow Up Boss, this meant:
95% increase in web traffic in year one with content marketing
30% month-over-month increase in organic traffic to the blog
Over 1 million unique visitors annually
Better engagement with less content
If you're ready to move content marketing off your plate but aren't sure what steps to take, we can help. Schedule a free consult call today (no strings attached!).