400+ Quality Leads in 2 Weeks: Standing Out in a Crowded SaaS Niche with a Quality-Over-Quantity Content Strategy
What do you get when you combine rapid advancements in digital transformation, a tight labor market, and unprecedented access to data?
An industry so crowded, there's no room for an apple to fall.
The global HR tech market is expected to be worth $38 billion in 2027. According to HRWin's Global HR Tech VC report, investments hit $5.33 billion across 238 deals in 2019—up by 60% from 2018.
But as investor interest in HR tech has risen, so has competition. So when Darren Bounds, founder and CEO of Breezy HR, set out to build the world's most user-friendly applicant tracking system, he knew he'd need a breakthrough marketing strategy to help get the word out.
Today, the Breezy blog has over 33K monthly visits and higher content engagement rates than some of the largest brands in the HR industry, despite having published significantly less content than the competition.
Here's how we did it.
The Backstory: The SaaS New Kid in a Competitive B2B Niche
The Strategy: Use Breakthrough Organic Content to Offset PPC Spend
Educational Meets Entertainment: B2B Content that Cuts Through the Noise
Co-Marketing: How To Get 400+ Leads in 2 Weeks from Your Existing Blog Articles
B2B Content SEO: Rank for Traffic, Stand Out with Message
What's Next for Breezy HR?
The SaaS new kid in a competitive B2B niche
When Darren and the product team wrote Breezy's first line of code back in August 2014, he knew it wasn't going to be a walk in the park. The HR tech industry is an intensely competitive one, dominated by longstanding incumbents with deep pockets.
"We have to be very 'ninja strike force' around how we approach keywords. This is a very crowded space, there are a lot of enterprise brands—brands that have a much higher ACV than what we offer," says Darren.
Initially known as the "Trello of hiring", Breezy announced itself to the world with a soft launch on Halloween. As a natural born design junkie, Darren and the team threw their full focus into perfecting user experience—and the effort paid off.
Breezy's user-friendly interface was an instant hit with talent and HR professionals at startups and SMBs traditionally underserved by the HR tech market, and their user base grew quickly.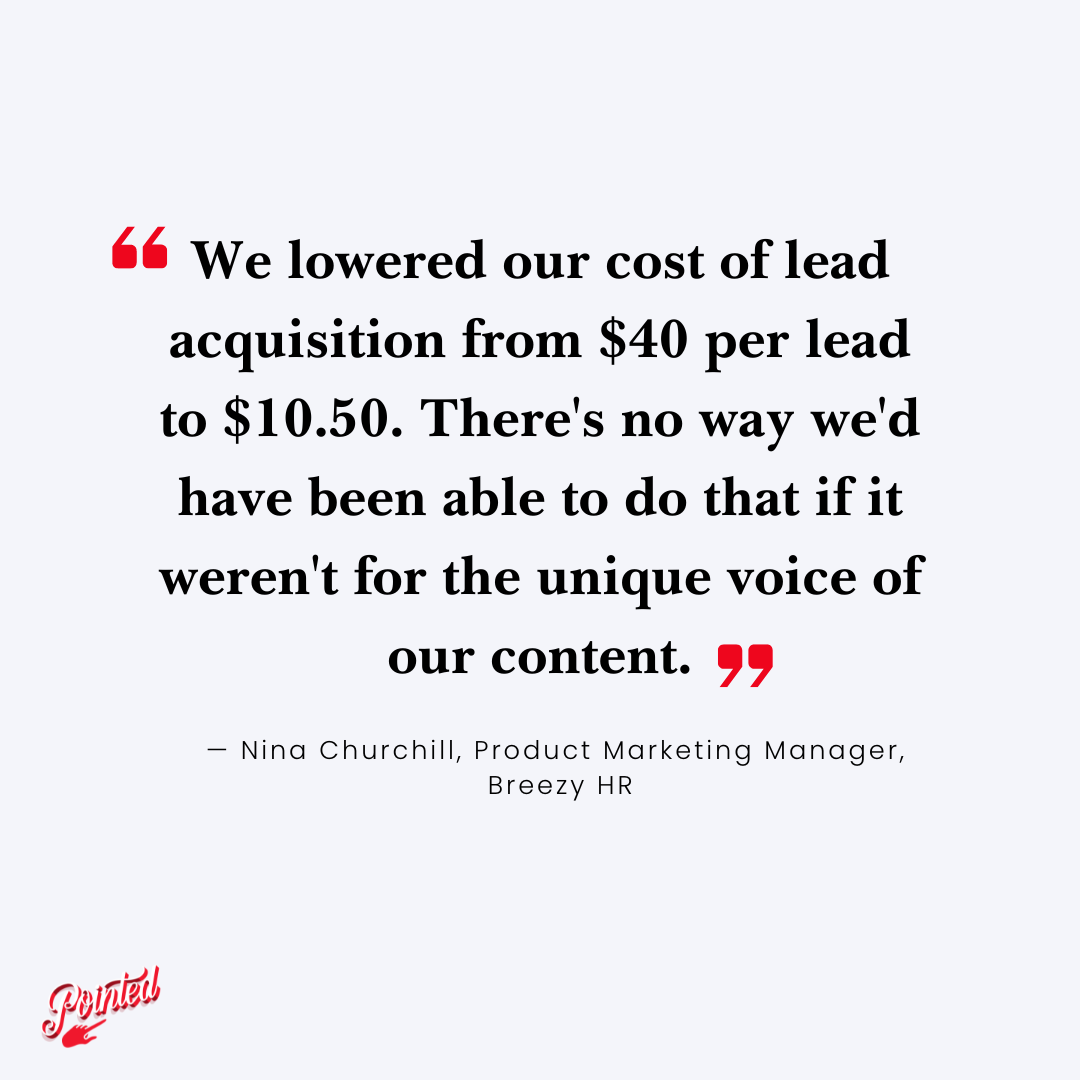 Breezy made a conscious decision early on to challenge the HR status quo by producing content that boldly reflects the brand's own beliefs, as well as the real issues revealed in voice-of-customer data.
But Breezy's marketing strategy was still heavily reliant on paid ads. In a bid to improve marketing ROI, Darren and the team decided to add organic SEO to the marketing mix in 2017, after their feature-based pricing model went live.
"When we look at keywords, we have to optimize our approach so that the cost for acquiring a customer via this type of keyword spend is not prohibitive, and that requires constant massaging and iteration. But that's just the name of the game in SMB."
But even on the organic side, competition was fierce.
Existing HR tech brands and well-funded startups had already built domain authority and held coveted positions for high-priority keywords. To stand out in a market this noisy, Breezy would have to make some bold moves.
The Strategy: Use Breakthrough Organic Content to Offset PPC Spend
Perhaps more than any other B2B niche, HR marketing is awash with content… and a lot of it is pretty darn good. But as William Wickey, Content Marketing Manager at LeadGenius points out: the "overwhelm" is real.
"Human resources professionals get overwhelmed with marketing and sales emails soliciting their business. In fact, our HR manager received 87 marketing and sales emails in one typical week."
Darren and the Breezy team didn't have the luxury of creating the same generic skyscraper content everyone else was publishing. They needed to drill down deeper into the actual conversations HR professionals were having—including everything from ageism in the workplace to what you're really paying for when you invest in an applicant tracking system.
Breezy needed more organic traffic, without sounding like everyone else. But this meant they'd have to take some controversial positions, with no apologies.
Luckily, Darren and Breezy's PPC ninja and Product Marketing Manager, Nina Churchill weren't afraid to tackle the "tricky" HR topics other brands wouldn't touch.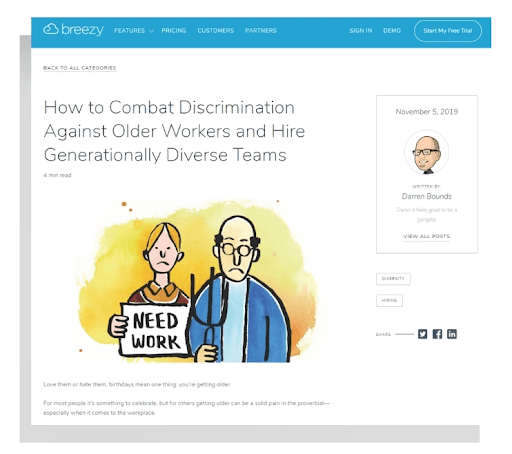 Together with our team at Pointed, we mapped out Breezy's organic content strategy into 4 core messaging pillars.
Candidate Experience
Diversity & Inclusion
Hiring Efficiency
Employer Branding
To cut through the noise, we adopted a customer-centric content strategy—constantly engaging with forward-thinking talent professionals from industries like tech, travel and even the spiritual community—to develop the best possible answer to the biggest HR questions.
We also transitioned the blog off of Medium and onto Breezy's domain—a move that delivered an almost instant 776.56% boost in monthly blog visitors.
From that point on, Breezy's blog experienced month-over-month organic traffic upwards of 30%. But what's really interesting, is that Breezy's average engagement per article surpassed that of its top five competitors.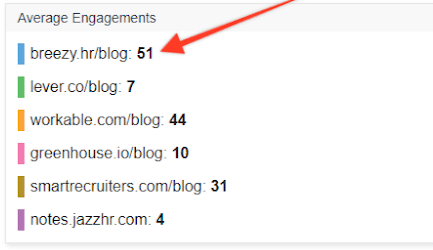 Educational Meets Entertainment: B2B Content That Cuts Through The Noise
With hundreds of deep-pocketed enterprise brands jostling for arm space in the SEO landscape, we knew we couldn't always outperform on PPC.
But we could outperform on voice.
We stayed focused on building a memorable and relatable brand voice for Breezy by writing the best—and most human—answers for business audiences in an industry riddled with bureaucracy and red tape.
Rather than pumping out dozens of keyword-packed How Tos, we doubled down on Breezy's quality-over-quantity approach, creating rich B2B content focused on educating prospects about the 'why' behind a pressing HR topic (not just the 'what' and 'how').
We created a Messaging Library to track relevant HR data points and crystallize Breezy's tone of voice to make sure the message always came through loud and clear (even on the driest HR topics).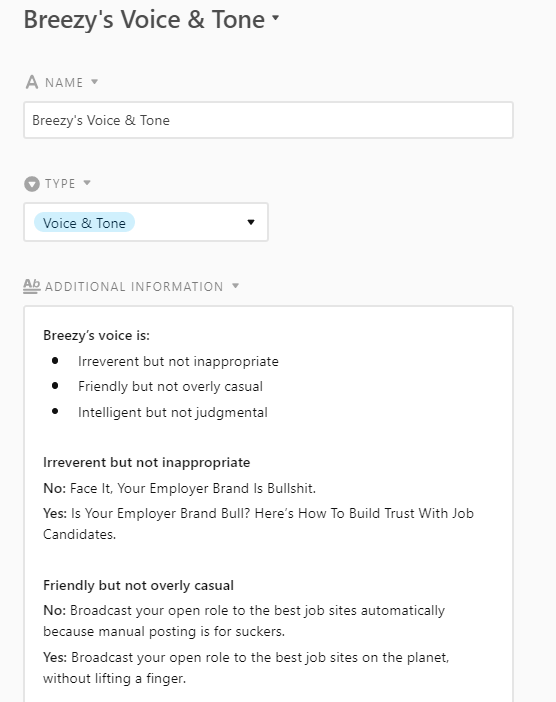 Armed with a clear voice and style, we then segmented Breezy's content strategy into three core formats.
Content Format #1. SEO-focused content – ebooks, relevant how tos, and listicles that people actually want to read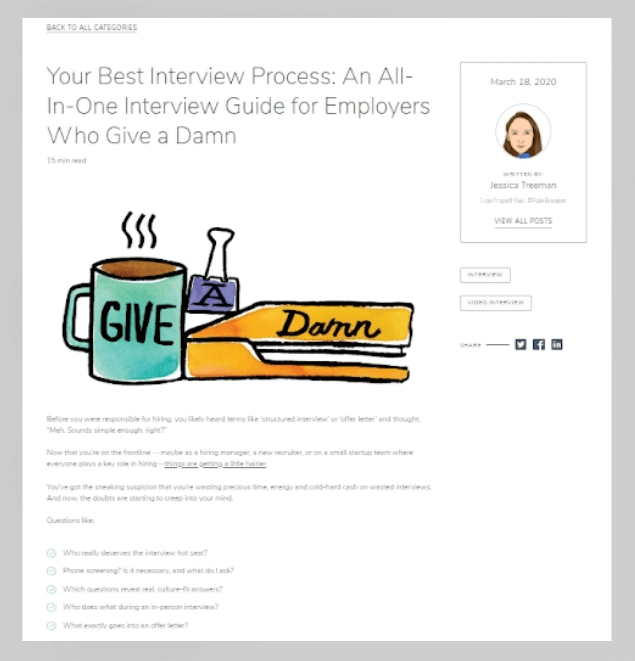 Content Format #2. Thought leadership content – practical opinion pieces on controversial topics like disingenuous employer branding, bias in product development and religion in the workplace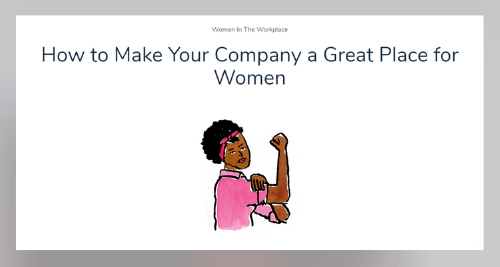 Content Format #3. Customer-led content – results-focused customer stories, expert roundups and detailed interviews (a.k.a. 'storytelling how tos') highlighting the product in a naturally engaging way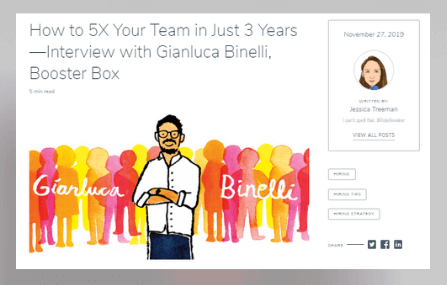 We also partnered with relevant collaborators and experts to help us tackle the industry's hottest topics (e.g., HR predictions, inclusion, impossible hiring stories, women in talent, etc.) from an insider's point of view—all while validating our viewpoints and staying connected to the community Breezy serves.
Our approach was, once again, straightforward.
Take extra time to identify and connect with experts with deep industry credibility and experience, and ask them for their unfiltered thoughts on a topic. Then, when the post was published, we simply asked them to share the article with their friends and followers.
This approach was effective, resulting in a jump from just 192 monthly visitors to the blog in January 2019 to over 25,000 by June 2020.

Apart from a couple of dips for holidays and, of course—the coronavirus—Breezy's MoM organic traffic to the blog has continued to rise steadily at an average rate of 66%.
Co-Marketing: How to Get 400+ Leads in 2 Weeks from Your Existing Blog Articles
Over time, we built a library of tactical interviews and actionable content for HR readers at every stage of the funnel.
It was the Covid-19 pandemic, however, that prompted us to get even more strategic with the traffic Breezy had accrued.
The overnight rise in unemployment meant a tightening of marketing budgets for pretty much every company in the HR space, including Breezy.
Luckily, by that time, we had enough data to know exactly which of our articles were genuinely evergreen, both from a search and engagement perspective. So, despite a drop in overall traffic due to the pandemic, the average growth rate for organic traffic to Breezy's blog remained strong.
But we knew that with the reduction in paid leads, we'd need organic conversions ASAP.
In April 2020, we identified that our article on the Top Job Boards for Diversity Hiring was generating nearly 10K unique visitors per year.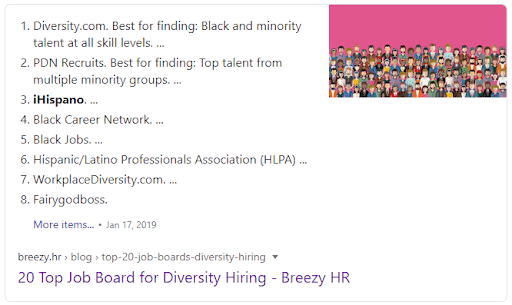 To help offer even more value to visitors interested in this topic, we launched a co-marketing campaign with Diversity and Inclusion expert Stacey Gordon, founder of Rework Work, offering readers an email mini-course in inclusive recruiting.
Less than two weeks after launching the mini-course, conversion rates were already averaging between 2.5 and 3%, bringing in a total of over 400 leads on this intent-specific campaign.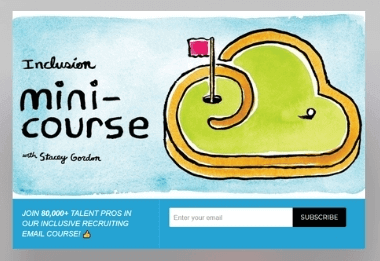 B2B Content SEO: Rank for Traffic, Stand Out with Message
Today, the Breezy blog brings in an average of nearly 2,000 new visitors per month, 1,100+ leads from our Inclusion Mini-Course campaign and 50 leads (and counting) from just one of the articles we're tracking.
Organic traffic has maintained its month-over-month growth trajectory and Darren and the team at Breezy have continued to evolve the product, winning business from companies with 250 to 500 employees and above (many of which were past users of the legacy brands in the space).
Despite heavy competition, algorithm updates, and a global health crisis—Breezy's content strategy has stayed resilient, helping to offset the dip in paid ads during tough times.
What's next for Breezy HR?
There will always be an avalanche of voices in the HR niche—but none quite like Breezy's.
In 2020, Breezy and the team at Pointed are keeping focused on a quality over quantity content strategy. Rather than blindly pumping out more content on high-volume top-of-funnel keywords, we're focusing on improving distribution for our best-performing assets and partnering with like-minded brands and HR experts to help build a community of loyal fans and customers.
If you're ready for a content strategy that can weather all storms, let's chat. Schedule a call with us and find out how to replicate Breezy's inbound wins for your own business, no matter how noisy a niche you're in.