A common question we get asked on client calls here at Pointed Copywriting is: 
"I'm just starting (or re-starting) my content marketing efforts and would love to get it right. What sort of content should I create first?"  
Considering the number of blog posts, case studies, and expert roundups being churned out by SaaS brands, this is a valid concern. 
The idea of creating the "right" kind of conversion-ready content can seem pretty daunting. 
Where do you even start? Do you begin with top-of-the-funnel industry-related thought leadership articles? Or do you go direct and focus on product-related long-tail keywords? A "big splash" expert roundup? A gated ebook? Should you start a podcast? If yes, what are you going to call it?
There are tons of questions to consider and, to make matters more complicated, each question has different answers depending on who you ask!
So that you don't spend time chasing your tail, we'll share the three core pillars of the Content Framework we use to drive quality traffic and leads for our clients—complete with some process flows you can swipe.
Sound good? Awesome. Let's dive in!
Here's what we'll cover
When deciding your SaaS content framework, keep it common sense

Content Type #1: Thought Leadership

Content Type #2: Customer-led

Content Type #3: SEO-focused Content

Content marketing is a marathon, not a sprint
Deciding your content framework? Keep it common sense
At Pointed, our simple Content Framework is built on a fundamental content marketing principle: 
The best content marketing campaigns are evergreen traffic and lead gen machines. 
If you really think about it, they're not even campaigns at all. They are revolving doors that continually inform, engage, and convert your prospects. To build such evergreen content, one needs an in-depth understanding of the target customer's pain points and motivations.
No doubt, it helps if you are (or hire) a brilliant writer, but the quality of your writing is only one of the many factors that contribute to the success of your content marketing strategy. 
Let's explore our framework in more detail.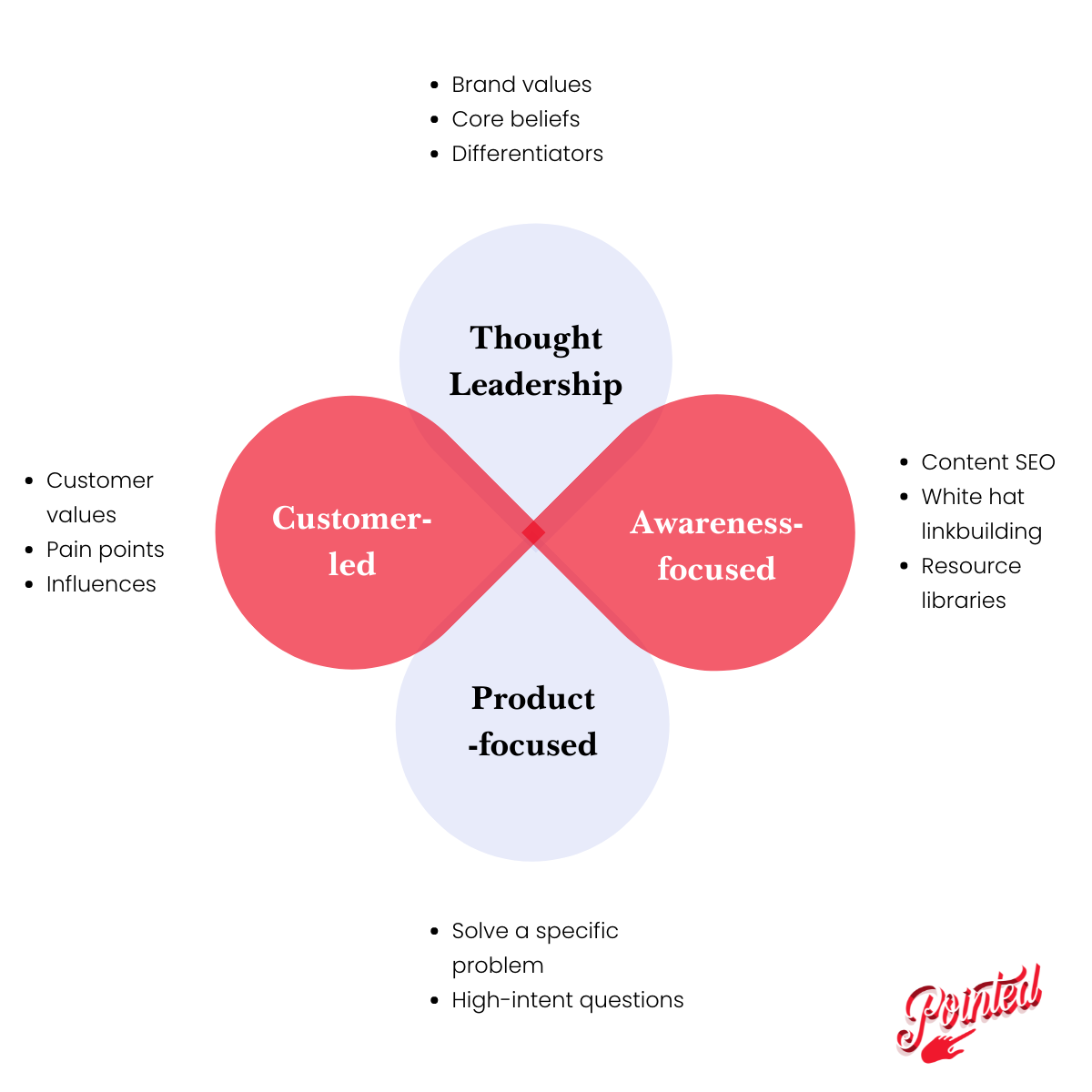 Content Type 1: Thought leadership 
In its 2020 thought leadership impact survey, global communications firm Edelman, together with LinkedIn, surveyed over 3,000 global business decision-makers in the US, Australia, France, Germany, Singapore, India, and the UK. 
They found that almost 50% of decision-makers considered compelling thought leadership content to be effective in influencing their purchase decisions. 
About 42% of those surveyed also agreed that they are more willing to pay a premium to work with an organization that produces thought leadership content versus one that does not. 
Why is thought leadership content so effective? 
When done correctly, one strongly opinionated, maybe even slightly controversial piece can not only attract highly relevant organic traffic, but also position your brand and point out your differentiators and your WHY. 
Considering the hype and amount of attention thought leadership content has gotten in the last few years, it may seem like you need a strong social media following, famous founders, or a big paid media budget to succeed with thought leadership content. The good news is, you don't.
Here are few tips from our inside processes to help guide your thought leadership strategy: 
Novel insights that elevate the discussion
Regurgitating or echoing existing arguments is in no way thought leadership. Our first rule of developing thought leadership content is that it must contain new thinking that elevates the current discourse and is also groundbreaking. 
Our goal is to educate our client's customers and prospects and influence buyer behavior. It can be long or short form, but the main point is that it shows the "why" behind the brand's existence—not just whichever keyword you happen to be targeting. 
Example titles of such pieces we have done for clients include: 
"Change is a Numbers Game: Why you need to know the ROI on your ATS" and "3 Things Every Child Care Director Can Learn from a Trip to Disney World".
Each of these articles had very different goals for very different SaaS brands. Both are under 800 words, and neither one has any fancy audio, video or other AR element. Yet, both these articles are among the highest-engagement pieces of content years after being published.
So why do they work? According to the Edelman study, it all comes down to one thing:
Quality over quantity
Creating thought leadership content requires significant time and effort. These sorts of pieces aren't what you'd churn out in large quantities or within a short timeframe. 
You also shouldn't underestimate the value of the scarcity of good ideas. With our clients, we aim to publish fewer but more pivotal thought leadership pieces. Clear-cut ownership of a few decisive issues is an excellent way for your startup to cut through the noise. 
Start by asking yourself:
What's the ONE thing you do better or differently than everyone else in your business niche?

If you could change one thing about the way your target buyer's industry works, what would it be?

How do other people talk about your brand when they discuss it with or recommend it to someone else?

If a journalist was going to do a write-up on your brand, how would they describe it?
According to the Edelman report, while 89% of decision makers said that thought leadership content can be effective in enhancing their perception of an organization, only 15% rated the thought leadership content they've read as 'very good' or 'excellent'.
When it comes to creating compelling thought leadership content, the bar is high. Take time to think deeply about your message and the main point you want to get across.
Ideas are everything—but it's still marketing.
Some content marketing experts position thought leadership as some academic activity divorced from the marketing process—a part of your content strategy that's all about ideas. 
That's nonsense. Effective thought leadership content always has a distinct marketing rationale driving it. It sells authenticity, ideas, and expertise—not products and services—which builds trust with your prospects over time. 
Trust is a crucial asset in sales conversations, especially in the B2B universe, where sales cycles can seem to take forever.
Content Type 2: Customer-led
Expert or customer-led content (think customer interviews, case studies, or expert roundups) is incredibly useful, but it is a criminally underused asset in most content marketing strategies. 
We could even argue that this sort of content is more effective than traditional sales collateral. 
Why? Because humans love stories. The stories you share through your customer-led content trigger emotions and paint pictures about your products and services that leave a lasting impression in your prospects' minds. 
Most content marketers understand the value of storytelling. The way we see it, there is no better means of storytelling in the B2B universe than using your customer's voice to connect with your audience. Lastly, your content is also prospect-focused, not you-focused. Use your platform to amplify your existing customers and new ones will come calling.
Here's our three-step process for creating customer-led content that keeps you close to your customers and helps you understand how they use and feel about your product:
First, we learn all we can about the prospect's pain points by nosing around the relevant Reddit, Quora, and Facebook groups to find out what they are complaining about. (In fancy marketing speak, this is called voice-of-customer research, in layman's terms it's essentially lurking with purpose.)
Then, we narrow down our client's customer list to identify their best customer(s). This group is comprised of the sort of prospects our client would love more of.
Lastly, we create precise, actionable storytelling content around their core pain points, and subtly highlight how the product/solution solves their problems.
Ultimately, at its core, a good piece of customer-led content stresses "what's in it for me?" from the customer's perspective—not the brand's.

Content Type 3: SEO-focused content
In the last few years, this has become the prevailing type of content, especially in the B2B tech and SaaS worlds. Depending on the client we're writing for, this may be either a bottom-of-the-funnel product-focused piece, a mid-funnel pain point-focused blog post or even one of those high-traffic top-of-funnel listicles everyone loves to hate. 
SEO content can feel utilitarian and unsexy compared to customer-led pieces and thought leadership content. However, if written correctly, these pieces offer great ROI because the cost is comparatively low to paid search channels and the lead quality is high. 
To be successful, SEO content must be in-depth, educational, and comprehensive—even when it's aimed at prospects at the very top of your funnel. It needs to be laced with relevant thought leadership and customer insights, and make prospects want to learn more. 
🌟 Content Insider Pro-Tip: There are already hundreds of articles on building a successful SEO strategy for SaaS brands. However, one tactic we have consistently seen work all the time is targeting topic clusters during keyword research, not single terms.
Bonus Content Type: Product-focused
Also called process or strategy deconstruction content (that's a mouthful though 🤔), this is the sort of content that challenger SaaS brands like GrooveHQ and Ahrefs have used to achieve massive results.
Here's how it works: 
Identify an urgent question (usually a long-tail keyword) that's relevant to your prospect.

Answer the question using examples and showing step-by-step instructions on how a reader can solve that problem using your content and, in some instances, your product or service. 
 Examples of such posts include Ahrefs How To Do Keyword Research for SEO and this GrooveHQ blog post where the brand shares how content marketing revived their failing startup.
At times when you'll need to position your product first and foremost, for example, if your product solves a particularly common question, if you've already got a lot of great top-of-funnel traffic to your site, or if search isn't your primary distribution channel, CTA-focused content is almost always the way to go!
Content marketing is a marathon, not a sprint
With content marketing, there is no finish line (yes, marathons have finish lines, but you get the point 😀). However, any smart content marketing program needs to be tied to useful and measurable goals your business is working toward. 
To drive growth, most B2B businesses go after three things—leads, customer support and loyalty, and sales enablement. 
Building your initial content strategy around a mix of thought leadership, customer-led content and SEO focused content gives you a healthy balance of shareable, high engagement pieces, and conversion focused articles that ensure you match your results with your business goals. 
Once you start publishing, you can use the results to further optimize or to double down on what's working well. 
About Pointed 👇🏾
We're a done-for-you copywriting and content marketing agency that produces high-quality content that drives qualified traffic, leads, and sales. If you're ready to take your SaaS or business brand to the next level but aren't sure where to start, we can help. Schedule a chat today!
Brittany is the Founder and Content Chief at Pointed Copywriting. She's also an expat, entrepreneur, and '90s pop culture addict based in Nicosia, Cyprus. Brittany and the team at Pointed Copywriting are proud to serve quality copy and content strategy to groundbreaking SaaS, B2B and enterprise brands in over three countries and countless industry niches.