Content marketing is changing by the second. 
From the battle to maintain premium SERP real estate to the recent rise in AI, the story of content is becoming more complex by the day.
For modern marketers like Trina Moitra, that means one thing: keeping ahead of the curve.
The Head of Marketing at the powerful A/B testing brand Convert.com has a gift for keeping the soul firmly in her content (even when using very non-human tools like ChatGPT).
As fans of Trina's powerful content style, we couldn't say no when we got the opportunity to sit down and find out about her proven outreach method, why nailing writer briefs is key to unlocking marketing success, and how to tap into the soul of your brand for a super strong marketing strategy no matter what comes next.
What we'll cover
From engineering grad to marketing mastermind
Like many marketing pros, Trina found her way to marketing through a series of fortunate events after starting her journey as an engineering student.
Trina's engineering background set her up for success from day one, giving her an incredible critical thinking mindset. But after graduating, health issues forced her to take some time out — and that was when she discovered freelance writing.
"Words were something that would call to me. When people [started] paying me to write, I pretty much knew this was what I was going to do full time," says Trina.
It wasn't long before Trina had made a name for herself as a content marketer who truly understood her clients. So when Convert CEO Dennis van der Heijden went looking for a passionate action-taker to streamline the marketing for their A/B Testing tool Convert Experiences, Trina was the obvious choice — and in classic Trina style, she was Head of Marketing six months later.
But in her view, it took a little more than a fancy new job title to get her to where she is today.
"When I started out I understood the channels of marketing, but I didn't understand the soul of marketing. It was only when I understood the soul of marketing that everything started to click together," she says.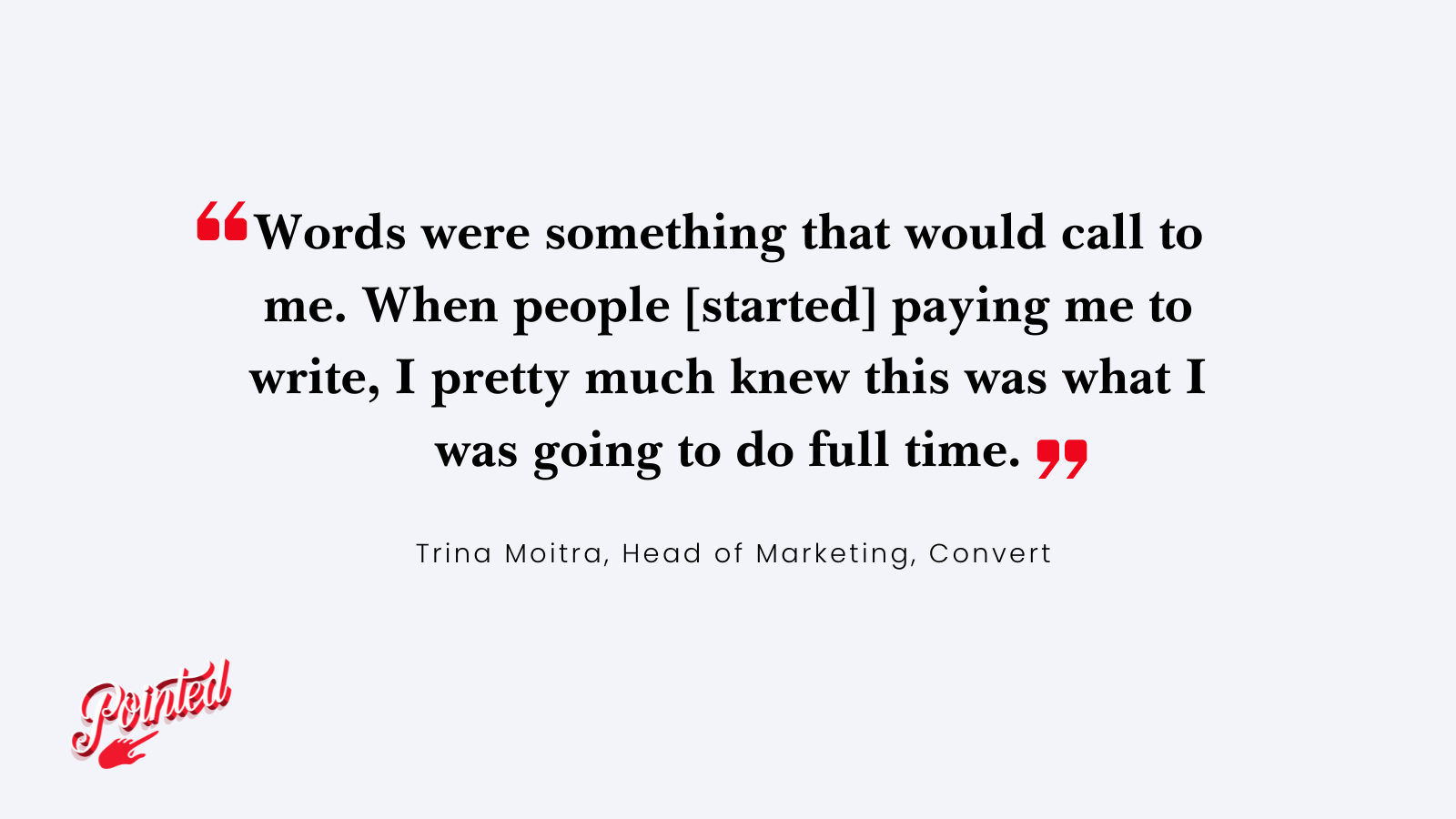 Relationships are the soul of marketing
For Trina, the soul of marketing means one thing: strong relationships.
"If I had to give one piece of advice, I would say really, really get to know the soul of marketing. What is the essence of marketing? What are the moving parts? When you understand this, you start to see marketing is nothing more than relationship building — and then everything else falls into place," says Trina.
It's Trina's focus on great relationships that drives everything she does, from the type of content she creates to how she builds writer briefs. Because for Trina, quality relationships = quality content.
"Creating good content, really valuable content is something only 1% of the brands out there know how to do. If you have a big budget, you can distribute the heck outta something mediocre, whereas I am just focused obsessively on quality content and building relationships with experts," she says.
It's this organic approach to building her network that's key — because the relationships she develops feed into the content she produces, whether it's using expert contributions or learning from the people she meets. And for Trina, so long as she keeps her approach small-scale and human, she knows she'll stay authentic and get real results.
"You cannot scale this type of outreach. If you scale this, the quality will deteriorate. I understand there are many companies out there for whom scaling is primarily important. Like basically anything that works has to be scaled ASAP. But thankfully at Convert, we are of the mindset that the best results come from unscalable processes," she says.
And it's not just about building a strong network.
"We know we can't keep up with the SERP. And we don't care because we use dark social to distribute. SEO is one distribution channel, it's not everything," she says.
So how does Trina utilize this approach for a strong marketing strategy? Let's find out.
"I am just focused obsessively on quality content and building relationships with experts." Trina Moitra, Head of Marketing, Convert
5 community-focused steps to a mega-impact marketing strategy
When it comes to building a powerful marketing strategy, for Trina and her team at Convert, there are five inspired steps which lead to an unbeatable approach. And it all starts with, you guessed it, relationships.
Here's how it works.
1. Awareness content
First off, Trina decided to look at how real-life relationships work and ask herself 'What is the psychology behind powerful connections?'
"We decided early on that we wanted to break our marketing strategy down into how a real relationship evolves," says Trina. "The idea is you meet a lot of people, but you only feel that spark with people who catch your eye at first glance, right? So we decided the first thing we would do is to create awareness content — which literally makes people stop and do a double-take," says Trina.
2. Community-driven marketing
Next up, Trina looked at the competition — and realized they needed to take a different approach. 
There were already a ton of brands ranking for target keywords relevant to Convert like 'What is AB testing?', so rather than engaging in the endless cold emails and link building tactics, they decided to focus on a community-driven approach.
"We knew we wouldn't be able to go after competitors with huge budgets for head term content. Like 'What is A/B testing?' We knew we couldn't match up with that. So instead we took that opportunity to start seeding our strategic narrative in a scroll-stopping way," says Trina.
3. Consideration level
Next it was time to go one step further and start creating even deeper content using a specialized outreach program. 
"Next we went down to the consideration level. We started to educate people on what we had already reframed in the awareness level. We created pieces of content with people who have a ton of knowledge but who don't have the platform. So we slid in an ABM approach by reaching out to agencies and CROs in brands who are on our radar in order to create this content," says Trina.
4. See it through to the bottom-of-funnel
Finally, Trina needed to ace Convert's BoF play. Her tactic was simple: focus on the product and use education to hook quality leads.
"The bottom of the funnel was product-led all the way through. We don't have a GTM of product-led, we don't have a free plan, but these product-led blogs were there to educate people again very deeply about how to use each and every aspect of Convert, to do what we were telling them. Which is basically to have processes and to have people and to pay attention to your statistical rigor, your experimentation, stuff that nobody talks about," says Trina.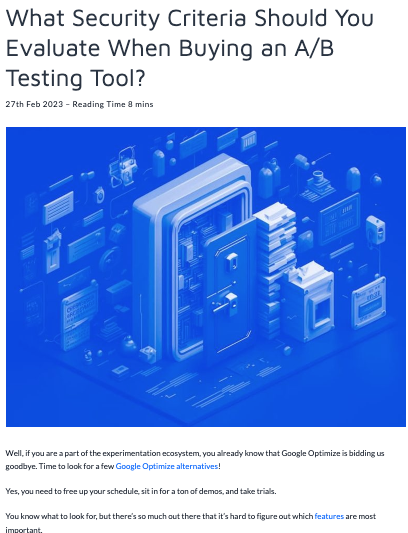 Convert uses product-led long tail content (bottom-of-funnel) like this blog post to round off their funnel.
For Trina, the awareness > education content pathway, made so much sense because the entire strategy looped back to help build even more relationships. From there, the conversions come organically.
"You are creating very deep how-to content, but at the same time you are also nurturing these beautiful relationships — and you don't need to tell them to take a demo or anything. If you are genuinely nice, if the piece of content is genuinely authority-boosting and they would genuinely like to share it, they remember you," says Trina.
5. Bonus step: Take on an experimentation mindset
For Trina, great marketing is about staying ahead of the curve. And the key is experimentation.
Trina believes in creating a structured experimentation program to guide all your marketing. And the way she sees it, there's no one-size-fits-all approach.
"First, you ask the questions: 'Should we be A/B testing?' And 'Do we even have enough traffic?' If you don't have the right volume of traffic, stats or in-house knowledge, A/B testing can get distorted really fast," she explains.
And if A/B testing isn't for you? There are other routes to choose from.
"There are multiple other ways to improve the customer's journey which don't involve A/B testing. What A/B testing gives you is a very high level of certainty. There's no argument around that. But the important thing is experimentation. Experimentation is a mindset you live," says Trina. 
For those marketers who aren't ready to step into the world of A/B testing, Trina recommends experimenting by looking at wider analysis. 
"Don't shoot in the dark, reference high-quality meta-analysis. If you can't run your own tests, you at least have evidence from thousands of other company's tests," she says.
Using the power of relationships to elevate content quality
After creating a killer marketing strategy, Trina realized there was one area that really needed work — selecting SMEs to help build knowledge. 
For her, that meant lining up her passion for networking with her love of experimentation. 
"We picked 30 people in the space using LinkedIn, all who talk a lot about CRO and experimentation and generously share their knowledge. We decided to follow them for six months and use everything they talk about in our blog. Then, we evaluated those blogs to see which ones get the maximum traffic and conversions. We did this for six months, and here's what we gained.
We got really familiarized with the field.

We built strong relationships. 

We gave ourselves a headstart in the space and brought together all our learning in an expert post," says Trina. 
And the best part? She was able to celebrate the SMEs she'd connected with and share their expertise with Convert's own audience.
"We told our readers, 'Hey, listen to them because we weren't familiar with the nitty gritties of proper experimentation, but after following them for six months we can now speak intelligently about these subjects. If you follow them for six months, you can also get the same results."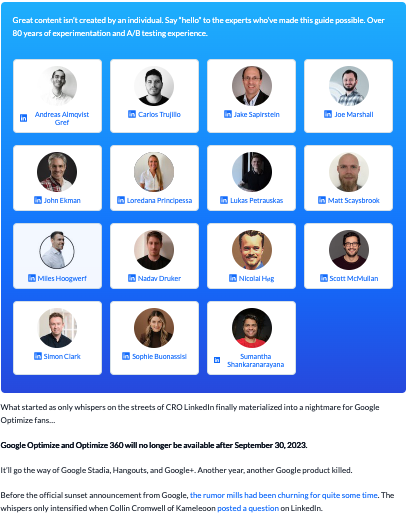 Convert always celebrate the SMEs they work with, like in this powerful MoF blog post.
Let's break that down: 
Pinpoint a cohort of 30 experts to learn from. 

Follow them for six months, noting down any great ideas for new content.

Connect with them along the way to start building relationships.

Evaluate your content to see which posts gain the most traffic.

Link back to the experts as a 'thank you'.
"I know everybody says you should have a distribution plan. I completely agree with that. But before that, you need to produce content you would be proud to distribute. Don't produce content to throw on several channels that you end up feeling apprehensive about," says Trina.
Building strong writer briefs
Next up for Trina was to nail writer briefs centered around a super strong SME program. "When we nailed the briefs, we unlocked the success of this entire program," she says. 
Convert's briefs are super in-depth and take about a week to create (yep, you read that right 💪🏻).
"Our briefs are like full-fledged blogs. They're 15-20 pages, at least 3K-3.5K words, full of quotes, full of media, full of my thoughts in the margins. Then I give the writers' some space to bring in their creativity and meld it with mine. At the end of the day, they're like a piece of content that has the POVs and thoughts and strategic narrative of Convert, but also the thoughts and contributions from at least 15 to 20 people," she explains. 
Here's what Trina believes every brief should include: 
A

strategic narrative

, including a strong point of view the writers should aim for. 

Pointers on

which quotes to use

and expand on. It should never feel like the quotes have been inserted inorganically or forced into the content.

Which

SEO details to include

. Make sure to add what really matters to you and the company, and what doesn't. 

A reminder to writers to always let the creativity and the

soul of the content

shine through. SEO comes second, soul of the content first. 

Your company's

citation policy

. "Even if it's your own experience, make sure to include a disclaimer or caveat," explains Trina, "Every piece of info should be verifiable and it should be accurate."
Trina also believes in the power of a solid editor to polish off each piece. "It's so important. We're so lucky that our editor here at Convert is amazing," she says. 
Use AI to gain the human edge
There's no marketing pro that hasn't heard about the great AI takeover. As usual, Trina sees between the lines at the opportunities AI can bring, and how she can use it to her advantage.
"I'm going to triple down on relationships and human-written content. That's my strategy for next year," she explains. "It's part of our process. We'll be using AI to kind of root out all inefficiencies in our processes so we can do stuff faster."
"For example, we can proactively use ChatGPT for textual analysis, like crunching huge volumes of data to give us the themes and patterns around it," she says.
This is one area where Trina's experimentation-driven mindset will undoubtedly serve her well.
Keep your friends close and your humanity closer
For Trina, getting to the soul of marketing is something she takes seriously in whatever she does — whether that's helming the marketing for Convert's A/B testing tool, or devising high-impact content strategies.
But it's Trina's decision to keep relationships at the forefront of her marketing strategy that really moves the needle. Because in the age of all things AI, it's the ability to stay human that will help you stand out.
Her advice? Whatever you do, "Just hold your humanness close to you."
Maddy Bartlett is a freelance B2B copywriter and content specialist. As a former environmental communicator, she believes in working with socially conscious brands to create an impact beyond words. She recently moved to the English outback to focus on what she loves best: growing food, writing and hiking the Dartmoor Way. Find her on LinkedIn.