When I first started out as a copywriter, I couldn't afford to buy courses or get a coach. 
And unlike many writers, I have never been involved in a writing role so I didn't have a boss I could ask for help or any colleagues I could ask for advice. 
So basically, I had no network, no money, no skills and no creative degree. All I had was a burning desire to learn as much as possible and to become the best copywriter I can.
To achieve this, books were the first resource I turned to. I devoured any and everything on marketing and copywriting I could lay my hands on.
Many copywriters recognize that although writing will teach you to think better, reading the best books will provide the seeds for those thoughts. This is why we reached out to six content marketing experts to tell us about their favorite books on copywriting.
1. On Writing by Stephen King
Michaela's 10+ years in content marketing started when she tried building a website for her music teaching business and discovered the term 'SEO'. Since then, she has created content for small businesses and co-founded a social media marketing agency. She currently runs content at Globalization Partners, a B2B tech company that connects companies with employees from different parts of the world.
For Michaela, On Writing by Stephen King might not be a copywriting book but it's a book written by one of the most prolific writers of our age and one that's filled with timeless advice for writers.
As Michaela put it: 
"My favorite copywriting book isn't a copywriting book at all, but a plain old writing book: On Writing by Stephen King. While there are endless takeaways, the big lesson I remember that resonated with me is that there is no way to get better at writing besides two activities: writing a lot and reading a lot. This stuck with me, because I can easily fall into 'analysis paralysis' and spend more time thinking than doing, but doing is the only way to improve."
In this book, Stephen King makes it clear that for writers, there's no way around it—doing the thing you dread the most is what will make you better at your craft.
On Writing is such a valuable book that after Michaela misplaced her first copy, she promptly purchased a new one so she could have a copy to reference at all times.
Michaela recommends this book "to anyone who writes for a living, or for fun, or wants to. It gives you a glimpse into the mind and habits of one of the most prolific writers of all time, and helps you see that writing is more about habit than it is about talent".
2. Confessions of an Advertising Man by David Ogilvy
Doug is not just a marketer, he's a self-described "annoyingly ubiquitous speaker at marketing events and prolific writer on all things marketing, content, tech, strategy and creativity".
For Doug, the following famous line written by iconic ad man David Ogilvy in his 1963 book, Confessions of an Advertising Man, is a line that still rings true in our times—especially in our times.
The consumer is not a moron, she's your wife.
Doug first read the book in college and it had such a profound impact on him that he decided to work for Ogilvy.
"I first read it in college and knew I needed to work for Ogilvy—I was lucky enough to get my first job there in 1983."
Thanks to Ogilvy, putting the reader first has become central to the work Doug and his team does at Velocity Partners. 
"I hope that respect for the audience is still at the heart of our work at Velocity. It makes you put in the hours, call your own bullshit before it reaches the reader and not try to fob off lazy work for the real thing".
Although Doug understands that many of the teachings of Ogilvy might not hold in our modern age, he still thinks the book is worth a read for anyone interested in the roots of modern marketing.
"The foundations of Ogilvy's approach―taking the craft seriously, respecting the audience and listening to the data―are timeless. On copywriting, his advice is always really good."
3.  Made to Stick by Chip Heath and Dan Heath
As a conversion copywriter and conversion rate optimization expert who has been in the trenches for over 10 years, Joel is someone you should listen to when it comes to creating messages that get the click.
Joel's pick is the 2007 bestselling business book Made to Stick by brothers Dan Heath and Chip Heath. This book builds on the idea of 'stickiness first' proposed by author Malcolm Gladwell in his book, The Tipping Point. 
The Heath brothers try to answer the question: "What makes one thing memorable and others not?" Utilizing the then available research on behavioral psychology and behavioral economics, they argue that there are six important traits that make an idea stick.
Joel's favorite takeaway from Made to Stick is the value of surprise. As he put it:
"Some of the most memorable messages are those that hit us with an unexpected idea, or frame knowledge through an unexpected lens. When you introduce something surprising in your copy or throw the reader into a place where expectations are violated, the brain is jostled out of apathy. Curiosity sets in, demanding to be soothed." 
"There's a physical reaction to surprise that puts our entire bodies in a state of attentiveness and receptiveness, and when we're attentive and receptive, messages land," says Joel.
But Joel also warns that resulting to gimmicks is not an effective way to weave the element of surprise in your copy. Instead, simply pay attention and be tactical about how you frame your messages.
Joel recommends Made to Stick to everyone and anyone, copywriter or not. He's of the opinion that the principles in the book "will make you a better communicator and equip you to seize, hold, and capitalize on attention."
4. The Robert Collier Letter Book by Robert Collier
Sonia Thompson is not just an entrepreneur and customer experience expert, she's also an inclusive marketing advocate who believes that companies win when they make customers feel like they belong.
And that starts with having a good understanding of exactly who your customer is, which is why one of the key insights Sonia took away from The Robert Collier Letter Book is the importance of entering the conversation your customer is already having in their head. 
For her, this applies not only to copywriting but to every aspect of marketing.
"To stay relevant, to capture attention, and to add value, you've got to start where your customer already is, rather than where you want them to be. This is especially true for diverse and niche consumers who have other factors contributing to their decision making process, that aren't just about your product, service, or experience."
Sonia recommends this book to business leaders—particularly entrepreneurs, marketers, and sales people. She believes literally anyone in "the business of trying to understand, persuade, and win the attention, adoration, and ongoing loyalty of consumers" will find this book useful.
5. On Writing by Stephen King
In case you've never seen one of Ross's prolific and inspiring posts on LinkedIn and Twitter, he's the founder of Foundation Marketing, a B2B content marketing agency that prioritizes content distribution as the key to successful content marketing.
On Writing by Stephen King is also Ross's favorite—but for a different reason. 
Ross regards this book as "one of the most influential books in copywriting history but oftentimes one of the most underrated as more and more books are written on the subject". 
"This book in particular does a great job at taking stories from the author's past and injecting them with great writing tips that everyone can learn from, whether that's how to narrate and structure a story or how important it is to write, write, write!"
Ross recommends this book to anyone who believes in the power of great messaging and would like to learn more about what makes good writing.
6. Obviously Awesome by April Dunford
Nina Churchill is a product marketing and paid advertising genius who currently helps run the product marketing operation over at iSolved, an employee experience tech company.
Nina's top pick for books on writing is April Dunford's Obviously Awesome which she describes as not being "a copywriting book, per se, but pinpoints the process on how to nail product positioning".
And as you may already know, getting positioning right is absolutely crucial to great messaging.
"One of the best takeaways from the book is market confusion. We as marketers/executives, and as part of the company, have a clear way we perceive using the product; however, customers may see it in a completely different way. Leaving your 'positioning baggage' at the door and researching different perspectives from current customers or newer employees can give a fresh approach to how others see your product. By understanding these perspectives, you can then craft your messaging in a way that perfectly positions your product."
Nina recommends this book to product marketers and marketing directors. And we'd like to add that understanding how positioning works is also key for copywriters, after all they're the ones crafting the messages that are shown to customers. 
As Nina says "positioning your product and getting the messaging precise for the target market is one of the most important (if not the most important) things you can do to resonate with your audience".
We couldn't agree more.
Learning is the first step
Reading books, attending webinars, taking courses and getting a coach are all important aspects of improving your copywriting skills.
But as any well-meaning copywriter will tell you, the practice (meaning―stop making excuses and write something) plus constructive feedback is even more important.
Books and courses will give you a good foundation, but rolling up your sleeves and practicing will make you the kickass copywriter you wish to be.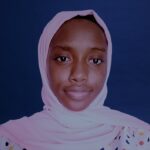 Mujidat is a freelance copywriter & editorial assistant for Pointed. She works with funded B2B SaaS & tech brands to map out a strategy and create content that aligns with their marketing goals and drives ROI.