Are you a newbie copywriter who wants to know what it takes to create truly great copy? Or are you already a pro, who just needs to sharpen their skills and attract awesome clients? 
Either way, you're in the right place.
Today, we'll be breaking down our top ten online courses for copywriters. We've chosen these courses based on both what they offer and the results reported by those who have actually taken the course.
And as with all things post-2020, we've included online courses only—because we want to make sure that you're able to learn, hone your craft and get better at what you do, no matter where you are.
For each copywriting course on this list, we've also included a brief outline of some of the things you'll learn so you can easily choose the right course for you, whether that's all about SEO or learning how to write the world's next great novel.
But before we dive into the courses, let's have a quick recap on what copywriting means and why investing in copywriting as a skill is one of the smartest career moves you can ever make.
What we'll cover:
What is copywriting?

Why investing in a copywriting course is a smart move

The most practical copywriting courses for writers curious about SEO

Our fave picks for mastering the fundamentals of truly great copywriting

Online copywriting classes + communities to help you uplevel your career
What is copywriting?
According to the American Writers & Artists Institute (AWAI), copywriting is "the process of writing persuasive marketing and promotional materials that motivate people to take some form of action, such as make a purchase, click on a link, donate to a cause, or schedule a consultation."
In the digital world, copywriting has gone beyond magazine ads and radio jingles. It now takes many forms such as:
Websites

Blog posts

Emails

Facebook ads

So much more…
The job of a copywriter is to create persuasive content that moves the audience to say 'yes' to an offer.
Sounds pretty easy, huh?
But anyone who's done it knows there's a lot more to it than that.
Copywriting vs. content writing
Copywriting usually involves more persuasive and action oriented language while content writing tends to lean on being more informational and educational.
The one you go for depends on your individual strength and interests.
Copywriting vs. SEO writing
While copywriting can be used on different channels and takes on several forms in digital and print media, SEO writing is about creating the type of content that helps a brand generate organic traffic and gets their webpage to rank on Google's SERP.
Since SEO writing also involves some form of conversion, we could argue that it's still a form of copywriting.
Why investing in a copywriting course is a smart move
The underlying principles of persuasion which drives copywriting has been in existence since the Boston newsletter started running ads regularly in 1704 (maybe earlier).
Copywriting jobs aren't going anywhere and if you want to be a copywriter, it's not too late to begin your journey.
Free courses vs. paid courses
If you've thought about paying for a copywriting course, one of the questions that has popped up is probably—Is it worth it?
The answer to that is—It is!
Free courses will introduce you to the fundamentals of good copywriting but won't teach you the nitty-gritty that will make you an exceptional copywriter.
Another argument you might have is "Can't I find all the info for free on the internet?"
You probably can but that kind of learning has no structure and it will take you a long time to piece it all together into an actionable plan you can execute to start your career.
Also, several courses come with a community of like-minded copywriters you can interact with which is not something you can get from blog posts.
Should you pay more for a copywriting course certificate?
The answer to that question depends entirely on you but we believe that the true measure of a great copywriter is in the results they get for the brands they write for—not a certificate.
The way we see it, certificates are always nice to have, but if you feel the pricing of a course is too high because of the certificate that comes with it, go ahead and choose a lower priced course that doesn't come with a certificate but still comes with a ton of value.
The Most Practical Copywriting Courses for Writers Curious about SEO
Every business with a website needs content that ranks on Google's first page.
Writers with the extra understanding of how Google and other search engine ranking providers (SERPs) work can specialize in SEO, opening up a vast range of project types they can work on.
Our best picks for writers interested in SEO are:
Price: $995
Length: 3 months
Best for: Agency, in-house and freelance copywriters specializing in SEO
This course is offered by Heather Lloyd Martin, a copywriter with over 20 years experience. Heather is also the founder of SuccessWorks, an SEO focused content marketing and development agency. As a practicing copywriter and agency owner, she keeps the curriculum fresh and up-to-date so students can say that they are truly certified in the latest SEO copywriting techniques.
In this course, you'll learn how to: 
Conduct keyword research

Optimize web pages

Write persuasive content that drives traffic

Monitor your results
The course consists of eight modules with a final exam plus lifetime access to new material. It also comes with a Facebook group and two monthly live calls with Heather and other copywriting experts to make sure your questions are answered.
Top Review: 
The SEO Copywriting Certification program has given me an added perspective and dimension to SEO and is a great course to go through for anyone interested in doing SEO.—Esther Yeap
Price: $94.99
Length: Self paced
Best for: Website owners and SEO blog writers
This course is currently available on Udemy. Course instructor Kathy Brown is a SEO consultant who has been in the business for over ten years. She also runs a blog where she shares her knowledge on technical SEO.
You'll learn how to:
Find the perfect keywords

Understand searcher intent

Know exactly where to place keywords

Write compelling web copy
The course has just a little over three hours of video content so you can complete it within a short time. You also get assignments, lifetime access and a certificate.
Top Review: 
Delivers course content with clarity, gives excellent examples, and goes straight to the point. Plus provides helpful information regarding free tools.—Denise Gibb
Our Fave Picks for Mastering the Fundamentals of Truly Great Copywriting
These courses cover the different forms of copywriting—writing blog posts, emails, ads, etc. Some even go deeper into the business aspects of copywriting, with lessons on how to get clients and manage your freelance copywriting career like a pro.
Price: $2,997
Length: Self-paced
Best for: Freelance copywriters, founders and digital marketers
Copy School is an industry leading copywriting course that helps you write copy that is "the closest thing to a salesperson in a digital world." That's according to course founder and original conversion copywriter Joanna Wiebe of CopyHackers who has written for brands like Wistia, Crazy Egg and more.
With Copy School, you get seven complete copy training modules, including a library of over 150 videos and dozens of templates and checklists.
You'll learn how to:
Convert readers with your copywriting

Write copy for landing pages, emails and funnels

Write conversion focused Facebook and Insta ads

Optimize lead capture with conversion focused landing pages
Copy School opens once a year for only five days. You can get on the waitlist here. 
Top Review: 
Copy School's given me all the tools and the process necessary to write high-performing copy for my clients that keeps them coming back for more.—Bayardo Barrios
Price: $57 per month, for 12 months
Length: Self-paced
Best for: People who are good at writing, but new to copywriting
With this one, the name says it all. Nicki Krawczyk's long-running copywriting training is very comprehensive indeed. Nicki is a copywriting veteran and founder of FilthyRichWriter.com with over 15 years of experience with all types of copywriting projects from in-house to agency, digital to print and everything in between.
(She's even written the backs of romance novels! 💘)
In this course, you'll learn:
The fundamentals of writing great copy

How to write for print and digital media

How to build your print and online portfolio

How to find your first clients
You also get lifetime access to the course, monthly group coaching calls and a members only Facebook group.
Top Review:
From the very first lesson in your academy, I was hooked…I knew it was going to be very good, but it has exceeded even my wildest imaginations (and I have extremely high standards)!—J'nai G.
**Quick Note: We have taken the Comprehensive Copywriting Academy taste test and can confirm that it's an awesome course. If you subscribe using this link, we'll receive a portion of that sale as an affiliate. All profits from Edit Sober guests and affiliates are donated to X.
Price: $1,497
Length: 8 weeks
Best for: Newbie freelance copywriters and business owners who want to up their copy game
This course is offered by Alex Cattoni, who has been a copywriter for almost 10 years. It gives you everything you need to launch your own brand and the fundamentals can easily translate into tangible outcomes for your clients. Alex also co-hosts a $25,000/yr mastermind program called Flight Club.
The Copy Posse Launch Files will teach you how to:
Write sales pages, landing pages, ads and emails

Sell with storytelling

Create high converting offers

Build a copywriting portfolio
You also get proven templates and exercises as well as lifetime access to the course. There's also a member area where you can interact with fellow students.
Top Review:
I got my first client within 5 weeks of starting the program. I used Alex's frameworks and got my first ever client testimonial!—Sam Saifi
Price: $497
Length: Self-paced
Best for: Copywriters interested in direct response
Highly revered in the copywriting and marketing industry, this course from AWAI is one of the most popular copywriting courses out there. The Accelerated Program from the AWAI promises to walk you through the fundamentals of copywriting and set you up with the skills you need to thrive as a copywriter, fast.
In this course, you'll learn:
The elements that make a piece of copy persuasive

Proven frameworks for writing sales letters

How to launch your new career as a copywriter
This course is designed to be hands on so you practice while learning. You also get a free subscription to a monthly marketing newsletter and access to the AWAI job board.
Top Review: 
It takes you from what copywriting truly is, all the way to starting your own copywriting or direct response business.—Jon Morrow
Price: $699
Length: Self-paced
Best for: Intermediate level copywriters who want to land paying clients asap
Copywriter and content strategist, Jacob McMillen put this course together to be a targeted and efficient course that helps copywriters go from 0 to 1 in terms of earnings. 
You should possess fairly good writing skills when you join this course because although Jacob covers how to write, his main focus is on the business side of copywriting.
In this course, you'll learn how to:
Write emails, web copy and blog posts

Launch your freelance business

Land high paying clients. 

Build a recurring leads channel
The full course comes with five modules and 20+ lessons. You can also opt to upgrade for 1-to-1 coaching and writing critique.
Top Review: 
I landed my first client from cold pitching thanks to your training. Best money I've ever spent.—Stella Inabo
Price: Free
Length: 2 weeks
Best for: Newbie writers
This course from UK-based group, Writer's HQ is designed to help writers build a solid writing habit fast. You'll get 
video lessons, exercises and resources that will help you beat procrastination and start writing.
You'll learn how to:
Find time and space to write

Set realistic writing goals

Focus on your work
You also get access to a private support group and lifetime access to the course.
Top Review:
14 Days to a Solid Writing Habit course is a super motivating, zero-BS approach for anyone who struggles to actually put pen to paper.— Maddy Bartlett
Online Copywriting Classes + Communities to Help You Uplevel Your Career
Price: $997/yr or $97/month.
Length: Unavailable.
Best for: Freelancers who want to scale their businesses.
10x freelancer is another course from Copy Hackers Joanna Wiebe, co-run with Amy Posner. While Copy School teaches you the exact tactics that help you improve your copywriting, 10X Freelancer teaches you how to transform your copywriting business.
In this course, you'll learn:
What you need to do immediately to make clients love your copy

The art and science of the copywriting proposal

How to scale your copywriting biz
This course comes with seven modules of video training, a private slack community and weekly dedicated office hours with Jo and Amy.
Top Review:
The tactics and techniques added enormous value to my work, and Joanna's veteran know-how in dealing with clients is second to none.—Joel Klettke
Price: $27/month
Length: Self-paced
Best for: Freelance copywriters, content writers and creatives who want to scale their businesses.
This community of freelancers is run by Alex Grizinski and Jenny Beres of Pink Shark, a PR agency. 
You get access to video lessons that teach you how to:
Build your portfolio

Land your first clients

Pitch your ideal clients

Negotiate like a pro
You get to be a part of 2 monthly live Q&A coaching calls, one on business strategy and the other on mindset coaching. You'll also have access to all previously uploaded training and samples.
Get No-Bullshit Copywriting Advice (for Free)
If you found this article helpful, you'll love our monthly newsletter and podcast—Edit Sober. 
In our casual conversations (for serious copywriters only), we curate actionable tips and top-shelf resources on copywriting—including free training, creative inspo, content hacks and the occasional pre-vetted job opportunity to help you shorten your learning curve, learn advanced skills and land high paying clients.
Straight to your inbox. No spam, ever. You can sign up via our home page (peep the opt-in box in the right corner 👀).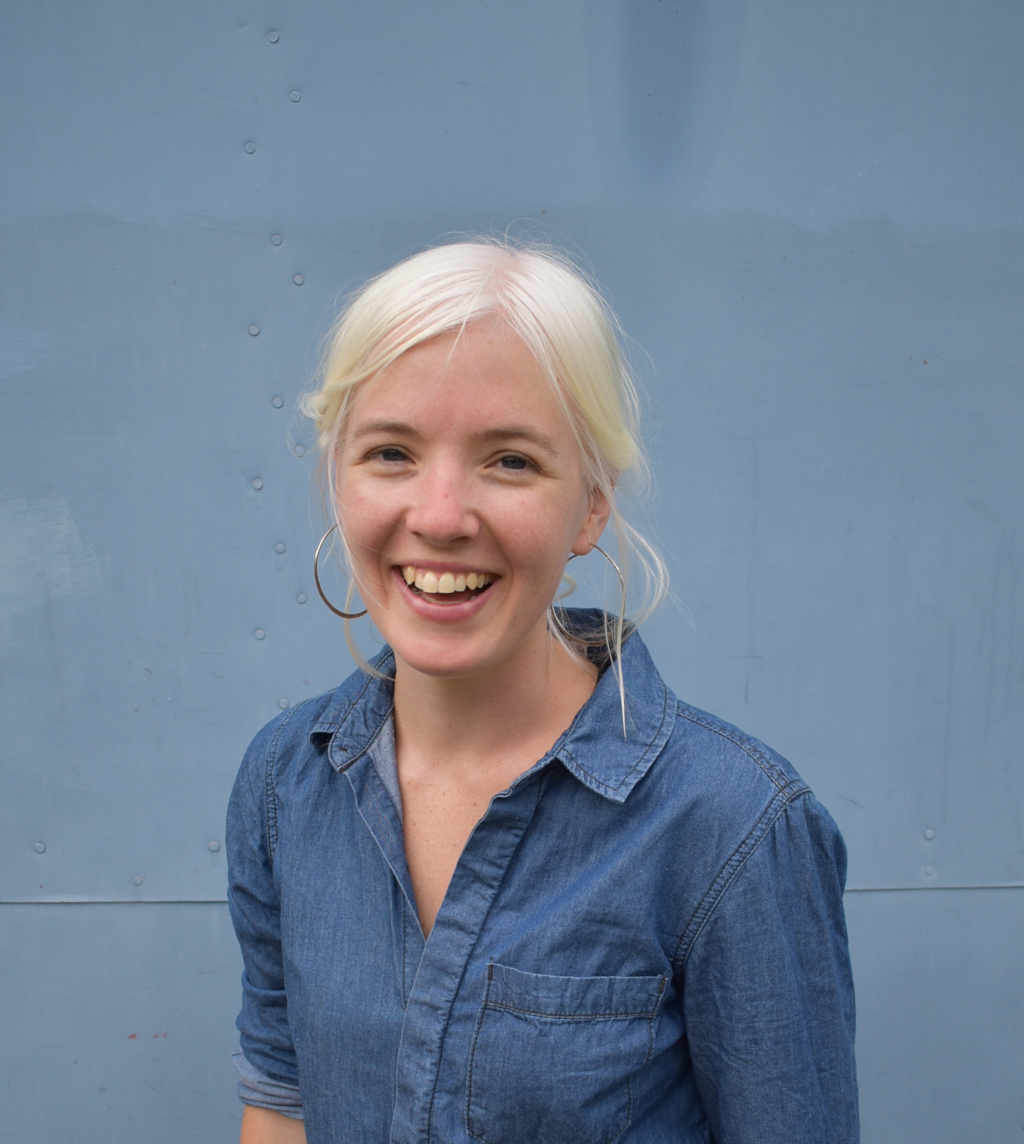 Maddy Bartlett is a freelance B2B copywriter and content specialist. As a former environmental communicator, she believes in working with socially conscious brands to create an impact beyond words. She recently moved to the English outback to focus on what she loves best: growing food, writing and hiking the Dartmoor Way. Find her on LinkedIn.