You've heard it before: Content is king.  
Major changes to Google's algorithm in 2017 helped establish this mantra.
But stuffing your content with keywords just won't cut it. You can't just throw a bunch of low quality articles up on your blog and expect people to be blown away by the sheer quantity of info available.
In a world of people with increasingly shorter attention spans, brands are in fierce competition to not only attract but retain the attention of their audience. You have to be intentional about the type of content you put out there if you really want your audience to connect and engage once they land on your site.
So, how do you create content a B2B audience can connect with?
1. Listen to your audience
Everyone talks about how important knowing your audience is. But, the real question is how do you get to know them? 
An effective way to do this is by listening. (Yep, it's really that simple.)
Trite as it may sound, you'd be surprised how many B2B marketers rush right past this step. And that's a problem. Because listening to your audience is the one surefire way to create customer-centric content that actually addresses their specific pain points—not just dance around them.
Sending out surveys is great but keep in mind, surveys don't show you the full picture. Having one-on-one interviews with your customers to really hear their side of the story is even better.
You'll get to know what your brand is doing right and what you need to change or improve on. But more than that, you'll also get to understand what was going on in their lives (professional or even personal) that led them to you. Consider asking questions like:
What was going on in your business that sent you looking for a tool like ours?
What were your systems and processes like before using our tool?
What other tools have you tried? 
How did you know it was time for a change?
Don't just stop at that, let your customers speak for you. Include customer quotes in your content pieces, create case studies based on your interviews with customers.
Saying you're good at what you do is great but letting others say it for you is miles more powerful.
2. Stop pitching, start helping
This might not sit well for some. And we get it. (After all, the core objective of a content strategy is to get people to eventually buy.)
But, remember, people buy from brands they trust and trying to pass off a sales pitch as content is a sure way to lose that trust.
The first step in gaining the trust of your audience is showing them you can help by—you guessed it: truly helping them.
Provide useful information that educates your audience, arms them with actionable tips they can implement and (at least to some extent) entertains them.
Otherwise, it's just more noise.
When you build a relationship with your audience by making them feel smart, get inspired or simply putting a smile on their faces, you show them you care—regardless of whether or not they buy your product or service. That's the kind of trust and respect that can later translate to sales.
The trick is to be patient and offer value first. No one makes a commitment after one date (least of all B2B buyers who typically have to answer to another 5 to 7 stakeholders for every purchase they make).
3. Position your B2B brand as a thought leader
Most B2B brands tend to shy away from any topic that could be deemed "controversial". And that's exactly why, you shouldn't be afraid to produce content that defies the status quo.
In a 2020 thought leadership survey conducted by global communication firm Edelman together with LinkedIn, 50% of the B2B decision-makers surveyed said they considered compelling thought leadership content to be effective in influencing their purchasing decisions.
What is thought leadership? According to this Hubspot article, "Thought leadership is a tactic content marketers use to build credibility for themselves or leaders in their company."
To us, that sounds about right. But we would add that you actually have to believe it. 
Because with thought leadership content, the emphasis is on quality over quantity. The aim is to peel back the curtain and let your audience see your brand's unique approach to addressing common and uncommon issues in your niche.
You want to tilt your reader's perspective, make them see things differently and help them find connections in places they didn't previously know existed. At some point, you'll have to mean it.
So how do you pull your head out of the day-to-day minutiae and figure out what you're really about. Here are a few questions to get you started.
What's the ONE thing you do better or differently than everyone else in your business niche?

If you could change one thing about the way your customer's industry works, what would it be?

How do other people talk about your brand when they discuss it with or recommend it to someone else?

If a journalist was going to do a write-up on your brand, how would they describe it?
In the same survey by Edelman, 89% of B2B decision-makers said thought leadership enhanced their perception of an organization but only 15% considered the quality of thought leadership content they've viewed as excellent.
There's no way to sugarcoat it.
Creating thought leadership content requires a lot of time and effort (you need original thinking and research), but if done right pays off both in the short and long run.
4. Cut the fluff
Nothing ruins an otherwise killer piece of content like fluff. B2B readers want to read content that is detailed enough to help them make a decision but empathetic enough not to waste their precious time.
Keep your content straight to the point and make it easy for your readers to find answers to their most pressing questions.
Of course, this doesn't mean your content has to be filled with stats and figures only. You can combine customer storytelling with power phrases pulled directly from your big picture thought leadership to create compelling content readers love.
See where we're going with this?
The common saying is that, "you should write like you talk." And that's great advice. But the real magic happens when you combine the power of listening to your customers with the boldness of speaking up about what you value as a brand to create the type of content your reader is still thinking about days after they read it.
And please, whatever you do: Write for humans not algorithms.
We'll conclude with these powerful closing statements from this article by Meghan Keaney, VP of marketing at Hubspot. She tells us, "Words matter. Every time you sit down to write an ad, web page, video script or other content for your company, you have the opportunity to break through to people. Find those opportunities in your marketing and make sure you've made the most of them."
Now those are words to live by. ✌🏽
Ready to set your messaging apart? We're a done-for-you copywriting agency that produces high-quality content for qualified traffic, leads, and sales. If you're ready to take your SaaS or B2B brand to the next level but aren't sure where to start, we can help. Schedule a chat today!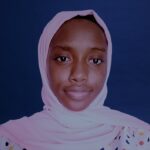 Mujidat is a freelance copywriter and editorial assistant for Pointed. She works with funded B2B SaaS and tech brands to map out a strategy and create content that aligns with their marketing goals and drives ROI.