Gone are the days of generic sales pitches — the future of content marketing is all about staying close to your customers and adapting to their needs. 
For content marketing expert Hiba Amin, that means a strong focus on customer education. 
"People are more customer centric than they were before and honestly, probably not because they wanted to be, but because they had to be to win. It can be hard to let your customers lead the way, but at the same time that's how it should be done."
Hiba's customer-centric approach has gotten her through some tough times in content marketing, and yielded some stellar results along the way. In our latest deep dive, we uncover the keys to Hiba's success at companies like Hypercontext and Copy.ai, including how she effectively scaled content and lead gen — even when resources were tight.
What we'll cover
Falling in love with customer education
From the beginning, Hiba had a passion for customer education.
"I did a lot of co-ops in university — generic marketing roles which involved a lot of different things. And I kept gravitating towards producing things that helped educate our customers. It was pretty exciting, I just felt very, very connected to that. So over time I kept going into jobs that were a little bit heavier on the customer education side, specifically through content."
The self-professed content-addict quickly found that the best way to get to know the industry was to dive in feet-first. "I was always curious and always wanted to learn and go deep on the subject. The best way I've learned is actually just researching in my own time and fully immersing myself in the space."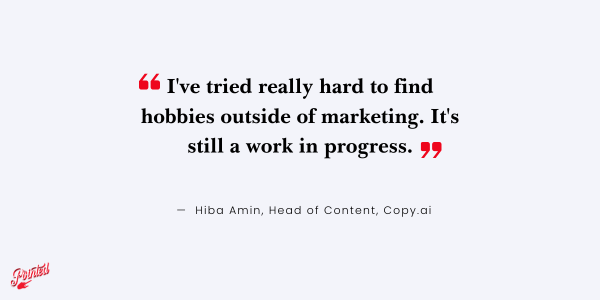 How Hiba's one-person team marketing team went from 200 to 700 leads per week
By 2019, Hiba had worked her way into a role as Content Marketing Manager at HyperContext.
But it wasn't long before the company was hit with the impact of Covid, lockdowns, and all the uncertainty that came with 2020.
"After Covid hit we went through layoffs and quickly went from a marketing team of four to just me. We were in a big fight or flight mode," says Hiba.
The company had no choice but to scale back on every marketing initiative outside of content. But despite the lack of resources, Hiba still saw the potential for small wins to help maintain their momentum.
"Although we scaled back on producing new content, we made sure to focus on the small wins to help us build momentum — the pieces that were driving high quality signups. So we focused a lot on repurposing and updating content. I think those are really powerful ways for teams lacking budget to have an impact in a short amount of time."
And the compound impact of those small wins ended up being pretty huge.
"When the pandemic hit, we had about 200-300 companies signing up a week. Two years later, we'd hit up to 700 per week."
But it wasn't as simple as just repurposing content. 
Hiba's customer-centric approach — a.k.a. the aptly dubbed 'Give folks what they want' strategy — also helped transform their product and in-app content.
"That was the most customer-centric I had ever been in a job. I would sit in on weekly customer calls with the CEO or product manager and we'd talk a lot about the product but also about some of the content pieces. For example, every single customer we spoke to was like, 'I love the suggestive questions in your app. It made for better one-on-ones,'" explains Hiba.
With a steady stream of original insights coming straight from her customer calls, Hiba was able to build a flywheel of high-impact content her customers could actually use.
"Based on the calls, we started a biweekly email. Because at the end of the day, our customers just wanted to know what questions they should ask in their meetings. So we thought, 'Let's just show them what questions people are asking every single week.'"
Hiba and the team at Hypercontext were able to scale and amplify their content across multiple formats, including:
A biweekly email

Blog posts

Templates

Sample questions

And more
"That continuously just got us so much positive feedback. We looked at our metrics every week when we sent that newsletter, and we saw a huge 20% uptick in our monthly active users. It was such a good mechanism to get people back into the product."
But looking back on her achievements, Hiba can already see how different things are for today's small marketing teams.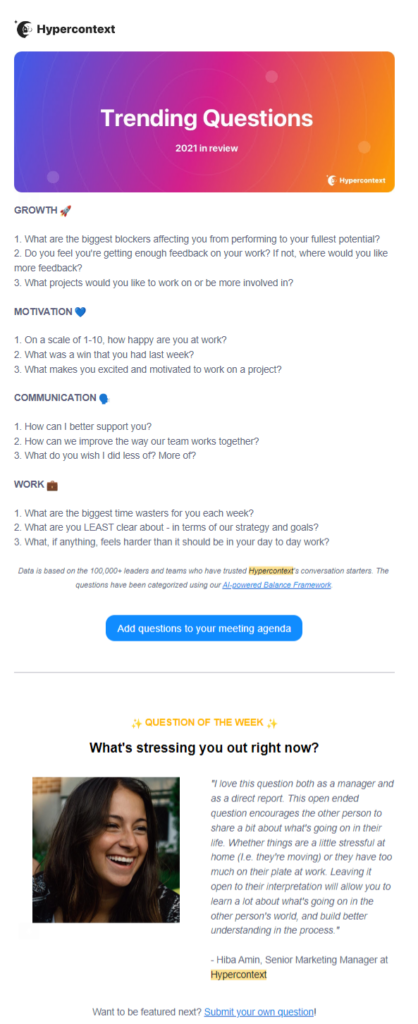 Marketing an AI product: Taking users from the hype to the "how"
"These days there's more of an ability to automate certain parts of the job and to expedite paths to brainstorming ideas or content or whatever it might be," says Hiba. "I think it will help. And it'll mean smaller marketing teams will have a better chance at competing with larger teams when it comes to content."
As the Head of Content at Copy.ai, she's facing her biggest customer education challenge yet:
Get users to go from the hype to the "how" with AI.
"I have never been in a space that has changed this rapidly. There was a moment when we wrote a blog and just two weeks later it wasn't relevant anymore and the information was inaccurate. How do we keep up?" she says.
"There's such a big race going on in AI. The marketing team of our closest competitor is five times the size of ours. Their budget is drastically larger. And so how do you compete? We do win on SEO a lot, but I also think SEO's going to be changing in the next year with all of the changes Google's making."
As always, Hiba has a plan. 
"Where I think we're going to win is being the best at educating customers." 
Because in a fast-moving space like AI, customers need to know how to navigate. And Hiba and the rockstar team at Copy.ai have plenty of lessons to share.
Prompt engineering lessons from the experts
For Hiba, the north star of her content strategy at Copy.ai is to teach customers how to use content generation tools.
"There's enough people talking about developments in AI. But if we can be at the core of people's education and help them succeed, whether it's with our software or not, I think that's where we're gonna win in the long term," she explains.
"The biggest thing we're trying to do right now is to educate with Prompt School. We're doing it through video and then repurposing it into written content and social media. It was originally my colleague Zac's idea, and I think it's just so smart. We have a prompt engineer who ran a couple sessions internally and that was the first time I was like, 'Okay, I'm starting to understand things,'" says Hiba.
For Hiba, a structured approach to customer education is key to helping prospects understand AI's potential — and its limitations.
Here's a glimpse into just one of the AI content generation lessons Hiba and her team are sharing: 
"Let's say you wanted to repurpose every single webinar or recorded call you've done. You can talk to chat and say, 'Hey, I want to build a workflow that repurposes webinar transcripts into X number of blog posts. I want this number of blog ideas. Build the brief, build the first draft, build all the social media posts and build an email newsletter copy. And all you have to do is just upload those transcripts. It'll build the workflow for you so you don't need an engineer," says Hiba.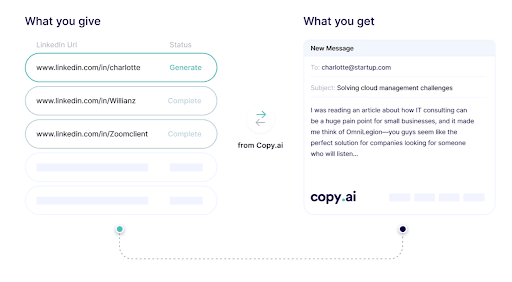 Copy.ai's Workflows can help you create drafts for email templates, blog intros, and so much more.
"It's not perfect. AI is not gonna write the content a hundred percent of the way for you. But to have something sift through an hour-long call and actually produce content to the point where you just need to fill in the gaps and add color and the human element. You essentially go straight from writer to editor," she explains.
With Prompt School, Hiba and her team are getting users to understand just how much easier content generation can be.
"We just need to educate people to get them closer to that realization of what's possible and what they can do."
In a changing landscape, your customer is your compass
In the future of marketing, Hiba believes your customers are your guides. Not algorithms.
"There's a lot of factors that have been forcing marketers to slowly start to ask 'How do I think about marketing?' I think there will be a much bigger emphasis on producing content that customers want and not what Google wants, which I think is very positive." 
Despite the AI revolution, strong connections with your living, breathing customers still tops the list. And we for one, can't wait to see where that takes Hiba next.
Maddy Bartlett is a freelance B2B copywriter and content specialist. As a former environmental communicator, she believes in working with socially conscious brands to create an impact beyond words. She recently moved to the English outback to focus on what she loves best: growing food, writing and hiking the Dartmoor Way. Find her on LinkedIn.