You're not you when you're hungry.
What does an intense football game, a tired and hungry teammate, and a smart-mouthed old woman have in common?
Answer—Snickers.
Snickers' hilarious 30-second Super Bowl campaign starring Betty White topped USA Today's Ad Meter in 2010. It also generated a mind-blowing 91 days of media coverage, created brand buzz in over 85 countries, and helped relaunch White's career.
But B2C marketers like those behind the Snickers campaign have long gotten the memo that funny works in marketing. 
Meanwhile, B2B marketers tend to alternate between using corporate speak and occasionally going as far as adopting a 'conversational tone' in their messaging. 
For these marketers, the question (or perhaps fear) is—will using humor in my messaging turn off B2B buyers?
To address this, let's take a look at what researchers have discovered about humor in marketing:
Of 1,030 customers surveyed, 53% were more likely to remember and enjoy an advertisement if it's funny,

according

to Clutch's 2018 advertising survey.

You might say ads differ from content. But, as we've always emphasized on Pointed, B2B buyers are people too. What works with B2C buyers, if applied with intention and the right strategy, can also work for B2B buyers.
A 2013 research

paper

by researchers from the International Islamic University Malaysia on the effect of humor on mood and memory recall, found that for both people in a neutral mood and those in a bad mood, humor can increase memory recall. And

other studies

have also found that this increase in recall applies to both verbal and visual content.
Exposure to humor can also encourage persistent behaviors among people,

according

to a research paper by David Cheng and Lu Wang of the University of New South Wales published in 2014. This suggests that the possibility of being entertained can keep customers coming back to your content.
A 2013 research

paper

by Nathalie Blanc and Emmanuelle Brigaud on the role of humor in preventive health communication reports findings that indicate that humorous content receives more attention and is judged to be more convincing.
And that's not the only research to back up the claim that using humor in your B2B marketing content can have a positive impact on how your audience perceives your brand.
In fact, what we'll be looking at next is an attempt by a professor at the University of Colorado to explain every joke ever with what he calls the benign violations theory.
Funny or offkey? Check in with the Benign Violations Humor theory
For humor to be effective, what it proposes has to differ from a preconceived notion we have, while at the same time staying within the boundaries of what we consider humorous.
This is according to a theory on why and how humor works known as Benign Violations, developed by Peter McGraw, a professor of marketing and psychology at the University of Colorado.
Based on the above theory, here are three things you should consider before diving headfirst into all things "funny marketing":
The type of humor you use should be tailored to your audience. Try not to use humor that alienates a particular group in your audience.
Humor is not suitable for all situations, so, you should know when humor can be an effective way to communicate with your audience and when humor doesn't suit the situation.
You should know how to deliver humor in a way that the message is moderate enough for your customers to understand it and not get annoyed by it.
Now that we've covered the theory behind why humor is effective in marketing, let's take a look at how you can use humor in your content strategy through the lens of eight hilarious B2B brands that have been there.
8 examples of branded B2B content that rocked a humor-based approach 🤘🏾
1. Zendesk — Zendesk's alt BoF landing page (and grunge band?)
In order to draw in their customers' attention, Zendesk adopted a creative approach and created an entire alternative website. And…band?
The well-known customer support SaaS created Zendesk Alternative, a website for a fictional grunge band that, although resentful about sharing a name with a software company, ultimately finds inspiration in the world of customer support and even concedes to doing a customer support concept album with lyrics like:
'Customer service. It might make you nervous. But you cannot hurt this. My deepest purpose.'
Zendesk's strategy was successful because they weren't necessarily trying to draw the attention of top-of-the-funnel prospects who were completely unaware of Zendesk's existence. They were targeting a high intent keyword and taking a completely unconventional approach to showing on-the-fence prospects what it might be like to actually work with a brand this fun.
The punchline: Look for a creative way to generate buzz and win with leads likely to purchase by showing a funnier side to your brand that helps your customers stop viewing you as a transaction, and start seeing you as a friend.
2. MailChimp — Did you mean MailChimp?
SaaS marketing history was made the day MailChimp partnered with the producers of true-crime podcast Serial to produce a beautifully lowkey 20 second audio ad in 2014.
Due to a mispronunciation of the company's name by one of the voice contributors, the ad caused MailChimp to trend on Twitter with the hashtag #MailKimp and went on to inspire MailChimp's 2017 "Did you mean MailChimp?" campaign.
MailChimp used the campaign to play around with the notion that the name a customer calls them doesn't really matter.
Nine variants of MailChimp such as KaleLimp, MailShrimp and VeilHymn were adopted by the brand—each one with its own ridiculous product experience.
For VeilHymn, musicians Dev Hynes and Brydon Cook created an exclusive single called Hymn, for the campaign. Hymn's interactive video on VeilHymn.com was designed to redirect to other websites created for the campaign.
We went snooping around online for a live page of the Did You Mean Mailchimp? campaign, but couldn't find it. You can check out the below video from Media Marketing Polska for the full scoop in about 2 minutes.
The punchline: You don't have to create an entire campaign dedicated to humor, but if you do bump into a comical chance you can take advantage of, why not run with it? 😉
3. LinkedIn — Ridiculously relatable marketing GIF collection 
If this collection of 20 ridiculously relatable gifs for marketers doesn't make you laugh out loud, it will at least get a giggle out of you.
In fact, this single blog post accounted for the seventh-most traffic in the first half of the year of any LinkedIn marketing blog post that first appeared in 2018.
And honestly, there's nothing much more to say on this. It's essentially just a feel good collection of gifs that as LinkedIn said will: make you laugh, cry and know you're not in this marketing thing alone.
And they delivered. Below is our fave pick from the collection.
The punchline: Keep it simple and curate a list of relatable memes, videos, social posts, or other content that can light up your customer's day.
4. Marketo — Big marketing activity coloring book
As an award-winning software company, Marketo knows how much work is required to attract the attention of discerning B2B customers.
Enter, the big marketing activity coloring book—one of Marketo's best efforts to get enterprise marketers to see the lighter side of marketing.
But as lighthearted as it is, this fun ebook is also a way for Marketo to capture leads. Despite its rep as an enterprise tool, Marketo's strategy makes it clear that fun content can align with your marketing goals and capture leads in the process—no matter how big or "B2B".
The punchline: Instead of creating another ebook about '10 things you should know about X', create a fun-filled resource that contains out-of-the-box activities your customers will actually be eager to use.
5. Cisco — The SuperSmart adventure comic
Cisco is a networking company that offers a range of IT solutions for both large and small businesses, including the crucial (but not exactly thrilling) area of cybersecurity.
According to a 2015 study, 54% of decision-makers view data security as crucial to their business but only 50% of business executives have plans in place to protect their companies against a cyberattack. So, while many companies are aware of the importance of cybersecurity, some of them are lax when it comes to securing their company.
Cisco set out to address this problem through—drum roll please—a comic book.
The SuperSmart comic covers the adventure of SuperSmart, a character created by Cisco who flies around the world fighting hackers and opposing threats to cybersecurity.
With this comic, Cisco not only draws the attention to the issue of security in a manner that's entertaining, it also educates readers on the many reasons why companies should pay more attention to cybersecurity.
The punchline: If you want to build awareness for a problem your target audience doesn't pay enough attention to, try using a little humor to win their attention.
6. MarketingSherpa — Target marketing fails blog post
In this epic fails blog post, the team at MarketingSherpa shows the reader examples of "targeted" ads gone wrong.
The headline for each example is intentionally counterintuitive, followed by an explanation of the better way it could have been done.
For example, one of the headlines reads: 'Never strive for clarity', and is followed by pictures of ads that make essentially no sense. Then, there's an actual explanation for why clarity is key.
It's educational and entertaining. The pictures are fun to look at and many of them will get you thinking, "How could anyone have thought this was a good idea?"
The blog post ends with an empathetic acknowledgement of human fallibility and a note to marketers to be more careful when targeting your audiences.
The punchline: Curate funny examples of misunderstandings customers have about your product and your brand. Then, lovingly explain the actual values you stand for and how your products can be of help to your customers.
7. Follow Up Boss — A cringeworthy curation of real estate stories
Follow Up Boss is a real estate CRM and B2B brand that regularly uses real world use cases, customer stories and case studies to connect with their audience.
This time around, they decided to shake things up a little. They rounded up entertaining stories from their customers in this hilariously struggle-is-real blog post.
If you're a real estate agent or broker, you'll definitely relate to these stories. These experiences illustrate that behind every real estate transaction, there are humans involved that yell, laugh, cry and are sometimes too quick to judge, just like everyone else.
The punchline: Show the human side of your brand. Make connections between your customers day-to-day life and your product.
8. Punchline Conversion Copywriting — An instantly (and ridiculously) compelling website
Lianna Patch markets herself as the 'humor' copywriter, and this is clearly reflected in both the copy and design of her website.
Her homepage headline starts with a knock, knock joke that's there to not only pull you in, but also make you chuckle.
She mixes a blend of a serious voice with a more funny and relaxed tone across the pages of her website. She also uses curiosity driven CTAs like 'Give me just the tips'  instead of the usual bland 'subscribe' or 'sign up'.
Her offer is also clearly stated. On her homepage for example, no attempt is made to bore you to tears with a long sales page you don't care about. She lets you know what the deal is from the start.
The punchline: Let your brand's personality shine on your website, and then reflect across all your content assets. Spice up your content with fun lingo that's popular with key players in your industry. 
Differentiate your B2B brand with a dash of humor
Now that we've explained why humor works and shown you examples of B2B brands doing some seriously funny marketing, it's hopefully a little more clear that, yes—humor does have a place in your B2B content strategy and overall brand messaging.
In the midst of the overly serious, never-able-to-take-a-joke competitors in your industry, humor can be the key element that sets your brand apart from the pack.
But remember the Benign Violations Theory. The goal is not to turn your copywriters and content creators into the next Chris Rock—and you never, ever want to force it. Just relax, have fun and focus on creating content that helps your customers get more comfortable with the idea that there are real humans behind the scenes, and it's always ok for humans to have a laugh.
Ready to set your messaging apart?
We're a done-for-you copywriting agency that produces high-quality (and sometimes funny) content for qualified traffic, leads, and sales. If you're ready to take your B2B brand messaging to the next level but aren't sure where to start, we can help. Schedule a chat today!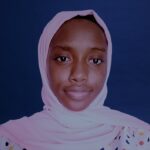 Mujidat is a freelance copywriter and editorial assistant for Pointed. She works with funded B2B SaaS and tech brands to map out a strategy and create content that aligns with their marketing goals and drives ROI.