From the rapid evolution of GPT-3 to ongoing social and economic challenges, recent history has been a bit of a rollercoaster for everyone — including content marketers.
As we transition into another year of who-knows-what, content marketers are on the lookout for any points of leverage they can build on to ensure they're equipped to face whatever the year throws at them.
Between the numerous marketing hot takes flooding LinkedIn and Twitter, it can be tough to decide which trends are worthy of your attention. 
We reached out to several content marketing experts to bring you the 10 hottest takes that can make a real difference to your 2023 strategy. Let's dive in!
Table of Contents
1. Rant quotient over rankings
Convert's Head of Marketing, Trina Moitra says the focus of content marketing is shifting from product updates and top-of-funnel SEO-driven content to fun (or even controversial) entertainment-driven content. 
"Be it long form, or video, or memes … anything really. The entertainment, inspiration slices of the content pie will steadily get bigger," she says.
"Education is a relatively easy idea to tackle. You can conduct solid research into Jobs to be Done and industry trends and pump these pieces out.  It's that 'getting on the radar bit' which requires high-quality, quirky, relevant content to do the job of awareness well. Not an easy thing by any means," she explains. 
"True demand generation starts when you penetrate audiences who do not know your brand and by the end of your campaign, would be inclined to include your tool in their consideration set." — Trina Moitra, Head of Marketing, Convert
Trina says content marketers need to build strong relationships with their buyers and view content as a strategic partner to the brand's product. Moving forward she recommends that content marketers focus on: 
Rant quotient (not rankings).

What is the pain point that bothers your buyers enough to take to LinkedIn with posts? Piggyback off of it.

True entertainers.

Who can laugh at themselves … Check out

Todd from Refine Labs

.

True educators.

Who can journalistically (and lucidly) bring together ideas and inspiration from across the space to combat single-perspective fatigue?
2. Content marketing will become the #1 way of generating traffic
"Content marketing will grow in 2023 and become the #1 preferred way of generating traffic in B2B marketing. With the economic downturn, we will likely see many companies scale down on their paid marketing efforts and instead focus more on content marketing and SEO," says CMO of AccuRanker, Bo Ekkelund. 
"Content is a long-term play and with Google's recent crack-down on AI-generated content, quality, human-produced content will be more important than ever," he explains. 
According to Bo, content marketers who win in 2023 will be those who combine quality content creation with SEO.
"Quality content cannot stand alone. Those who succeed in 2023 will be those who not only produce quality content that adds value to the reader but also keep a close eye on their SEO efforts by analyzing and tracking their keywords and google rankings."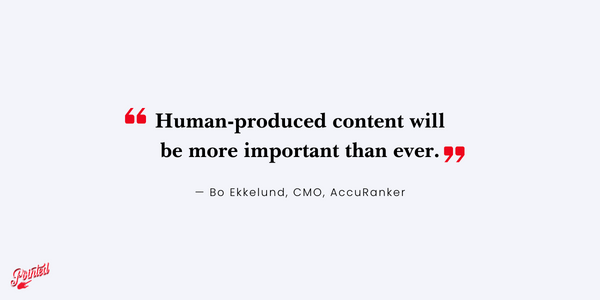 3. AI content editors will become more valuable
No matter your reservations about AI-written content, the place of AI-supported content is already cemented in the future of content marketing, according to the creator of Character Calculator, Burak Özdemir. 
"AI content editors will be more valuable in 2023," says Burak. He's a firm believer that these tools will help content marketers cut costs, save time and maintain a high editorial standard. 
"With more AI tools available to content editors, they will be able to spend less time on repetitive tasks and more time on creating high-quality content." — Burak Özdemir, Creator, Character Calculator
"AI content editors will be able to quickly identify errors and inconsistencies in content, saving valuable time that would otherwise be spent on proofreading and editing. In addition, they will be able to format content automatically according to the publication's style guide, further increasing efficiency."
4. High-quality content takes a lot more work than most folks are willing to put in
"If you ask any content marketer what their goal is or what type of content they produce, 'unique, high-quality content' is bound to come up at some point in the conversation," says Goldcast's Senior Content Marketing Manager, Meisha Bochicchio. 
"And most folks think they're doing a great job at this, which has led to an overflow of crap. Search engines are a dumpster fire of  'unique, high-quality content,' most of which is underwhelming imitations of everything else on the search engine results page."
"The truth is, truly good and unique content takes A LOT of effort to produce. This isn't something you can just 'spin up' in a few hours. And great content is more than just words on a page," she explains.
"Folks that invest in this type of content [unique high-quality content] are going to win not only readers but raving fans." — Meisha Bochicchio, Senior Content Marketing Manager, Goldcast
"The best content includes original research and a strong point of view. It teaches the reader something new that they can't find anywhere else. It's outlined and formatted in a way that's easy to digest and navigate. It has original graphics that actually support the content, not empty stock photos. Depending on the topic, it might also offer the reader a tool or template to help solve their problem. It might even offer different consumption options, like a video or audio version of the post." 
5. Death to SEO-focused content
According to freelance writer and PR consultant Michelle Garrett, it's never been a better time to be a writer who isn't a fan of content created solely for search engines. 
"At last, the focus on writing for SEO will diminish. With the latest changes to Google (the helpful content update), content that's written for the audience will be what brands aspire to create," says Michelle.  
"Writing for the audience should always take precedence over writing for search engines. Hopefully, [Google's helpful content update] will bring an end to many of the bad practices that sprung out of the keyword-stuffing approach." — Michelle Garrett, Freelance Writer and PR Consultant
"For those of us who have eschewed stuffing keywords into written content in the past, the change supports this approach. Writing for the audience should always take precedence over writing for search engines. Hopefully, this will bring an end to many of the bad practices that sprung out of the keyword-stuffing approach."
6. Prioritizing accessibility will become table stakes
"The main issue with marketing is the lack of accessibility to the world's largest and the most ignored minority of 1.85 billion disabled people," says Accessibility Expert, Svetlana Kouznetsova.
"Our population size is larger than the population of China and the EU combined. We control $1.9 trillion in annual disposable income. If our needs are ignored, businesses will lose not only us but also our family, friends, and colleagues that make up another 3.4 billion potential customers. Together we control $13 trillion," she explains. 
Videos without captions, podcasts without transcripts, and images without alt descriptions are just a few of the accessibility issues content marketers need to tackle head-on.  
To get started with prioritizing accessibility, Svetlana recommends content marketers consider hiring an accessibility consultant. "Accessibility is a huge undertaking and it takes time to learn and become proficient in accessibility."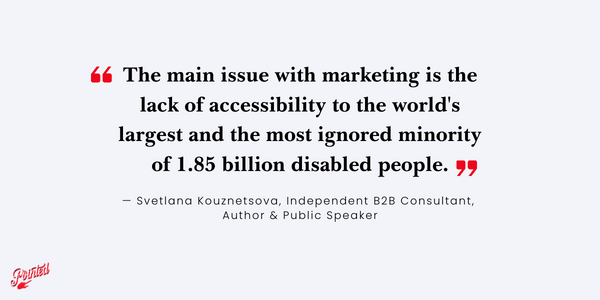 7. Written content can no longer compete with videos
"Content marketing can simply no longer compete with video marketing (YouTube, TikTok, etc.) and content marketers will need to integrate videos within content to stand a chance in this new video-oriented world," says Head of SEO Strategy at HireInfluence, Ben Kilmok. 
"New software companies (such as Synthesia) provide AI solutions to help content marketing agencies turn articles into videos as it is becoming crucial for content marketing's survival," he explains. 
"Content marketers will be forced to integrate video within their content as a requirement to engage with their audiences and potential prospects."
"Videos are becoming crucial for content marketing's survival." — Ben Kilmok, Head of SEO Strategy, HireInfluence
While video content certainly has a lot of potential, the most impactful content marketing strategies will be those that have a fully integrated approach, unifying video, audio and written content to create an immersive experience for audiences across multiple channels.
8. Short videos will take over in 2023
Like Ben Kilmok, Friederike Geiken is highly optimistic about video marketing's potential. As the founder of a project management platform for freelancers, Friederike has firsthand experience with capturing attention in a saturated market. And according to her, short-form videos are the best thing since the invention of the internet. 
"The future of content marketing will be dominated by short videos," says Friederike.
"A lot of social media platforms are trying to re-create the success of TikTok. Twitter, for example, wants to include a video feed. As video becomes increasingly important and users' attention span decreases, the need for shorter and more to-the-point videos will become more prominent," she explains.
"Content marketers have to get used to adding video as a supporting element to their written content. One thing that probably will need some time to get used to is publishing less-than-perfect video content since these types of videos seem to be performing very well."
"Content marketers will need to get used to publishing less-than-perfect video content since these types of videos seem to be performing very well." — Friederike Geiken, Founder, Kosmo
Friederike also believes content marketers will need to level up their video analytics skills so they can correctly "draw conclusions from video analytics to measure and improve performance."
9. Companies need to level up their budget for content marketing talent 
B2B content marketer and freelance writer, Jasmine Fleming believes that "content marketers will begin to skew more toward entrepreneurial work than traditional in-house roles in an effort to take more control of their careers and earning potential."
"Content marketing requires such a multifaceted skillset and knowledge base, especially on small teams. Despite this, content marketers don't seem to be valued for what they bring to the table. I saw recent data from the Content Marketing Institute that shows 54% of content marketers feel they should be paid more. The report also showed that nearly 70% of content marketers either saw no clear career path for themselves or if they did, the path forward isn't at their current organization," she explains. 
"Whether it's as a 'side hustle' or a full-time endeavor, content marketers will look for opportunities where their success is in their own hands instead of a company's." — Jasmine Fleming, B2B Content Marketer and Freelance Writer
"Companies will have to either make room in their budgets for top talent, or they'll need to become open to more non-traditional content teams that leverage freelancers and other outside parties instead of a fully in-house team. Either way, business-as-usual won't work for content teams that maintain static or even low pay for overworked content marketers." 
We couldn't have said it better.👌🏽
10. Content marketing success will depend on the right partnerships
"The future of content marketing will be heavily dependent on external resources," says founder of PrimoStats, Shayla Price.
"In-house teams will need to partner with other brands to expand their audience. They will need to hire contractors to recruit best-in-class talent. Agencies will play a critical role in content creation and SEO services. This shift will help content teams achieve their quarterly goals faster," explains Shayla. 
The Content Marketing Institute asked content marketers what they would change about how they do content marketing in 2023 and out of seven key themes, getting "more resources, more budget and additional staff" was a top response. 
"To prepare for this shift, content marketers should start building relationships with their future talent. Whether it's networking on social media or via a Slack group, these relationships will be helpful when you need a writer to draft a post or a graphic designer to create a flyer. Your brand won't be rushing to acquire top talent or evaluating inbound candidates. Instead, you can reach out to your established relationships to get started immediately."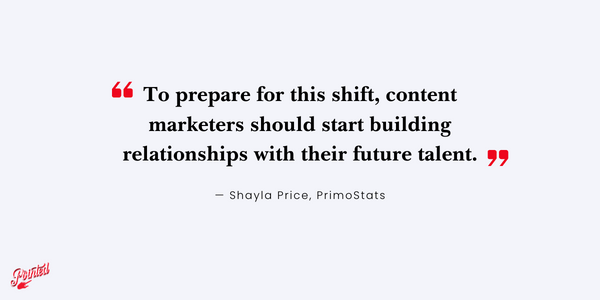 Transition into 2023 like the pro you are 
There you have it. The 10 most relevant content marketing hot takes that can help you plan for 2023. 
While we cannot be certain about what the future holds, as content marketers, part of our job is to make predictions and create plans based on what we know about our product, audience and industry. 
It can be helpful to think of industry predictions as tools. Like so many of the other tools we use to better market our content, the best approach is to use them when they fit and when they don't, get creative and try something else.
Here's to another successful year!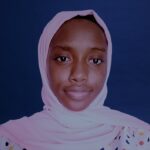 Mujidat is a freelance copywriter and editorial assistant for Pointed. She works with funded B2B SaaS and tech brands to map out a strategy and create content that aligns with their marketing goals and drives ROI.