Content marketers rely on several tools to get their job done.
However, sometimes it's these very tools that get in the way of creating relevant, helpful content for humans. 
Without even knowing, many content marketers have fallen into the trap of using only the most popular tools in the industry. But is that really what's best for your audience?
Thanks to the recently released Google helpful content update, many content marketers are starting to realize it's time to shift from a tool-centered approach to a human-centered approach when it comes to content production.  
We rounded up insights from content and SEO experts on the top 10 overlooked keyword research tools content marketers can use to find genuinely helpful content ideas, without forking out or following the herd. 
Let's dive into what they shared.
10 of the best (if lesser known) keyword research tools:
10 keyword research tools you're probably overlooking 
1. Talk to folks outside your industry

 
According to Stefan Schulz, Partner at Orpical Group, marketers are "often way too close to things and get hyper-focused on finding good volume keywords with low competition."
While this is not a bad tactic, it often blinds marketers to hidden gems which is why Stefan recommends talking to outsiders because they don't "get bogged down in that technical stuff. They just search for what they think will get them the best answer."
To apply this tactic, Stefan says he'd "open a small focus group of individuals that aren't close to a product or service." For example, if you sell CRM software, you could find a group of non-salespeople and ask them how they'd search for CRM software for a salesperson. 
Then, you'd collect the search data and assess how they located the best result. You'd likely discover a completely different search path compared to what a seasoned salesperson might look for. 
Bonus Tip:
"If you can capture the thought process of how people search before it's recorded in major tools like Ahrefs and Semrush, you're way ahead of the game. You'll also be able to create helpful content for lesser-known keywords that can help lift higher-volume searches." 
2. Answer The Public

 
Answer The Public gives you under-the-hood access to the what, why, when and how behind search terms. 
"It makes it easy to see all autocomplete suggestions. And if you use AnswerThePublic's training and documentation, you'll learn to write content for personas you never thought of before," says Content Writer Debashri Dutta. 
Users on the free plan can download results as an image or a list. Here's a peek at the results we got when we ran a search for event marketing on Answer The Public: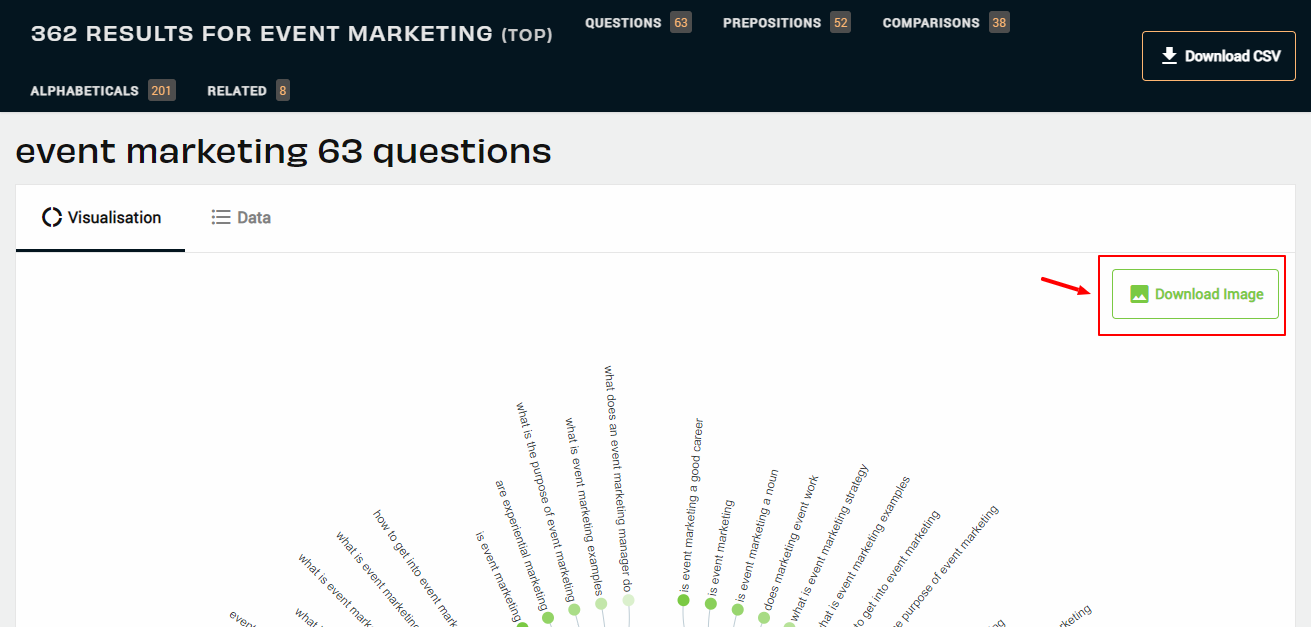 There are a ton more suggestions down the page and the paid plan offers other features like alerts on new suggestions and data comparison. 
Bonus tip:
"
Check out what a key influencer or thought leader is talking about on social media and see if you can build content around what they're saying.
"
3. Wordstream 
Wordstream is "underrated as a tool for B2B marketers", says Marco Palma, SEO consultant at PR Lab Hub. It was specifically created for paid search marketers who want to ramp up their PPC campaigns, but it's also a powerful tool for content marketers. 
All you need to do is enter your seed keyword and Wordstream will show you the Google search volume for related keywords as well as how much you'd need to pay to appear at the top of the page. 
Here's the result we got when we test-ran the free version of Wordstream using the seed keyword event marketing: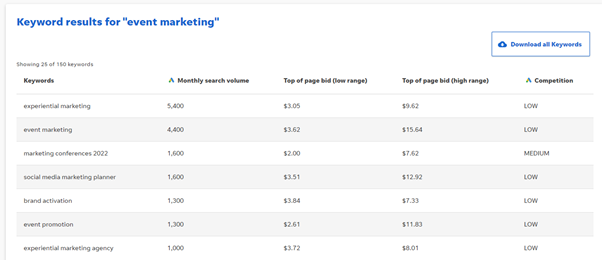 The real value for content marketers is the keywords list and for a free tool, it's not bad as a starting point. 
Bonus Tip:
"
Conduct a gap analysis to discover topics your direct competitors have covered that you haven't."
4. Bulk analysis of competitor customer reviews
"Basically, we go to our competitors' Google reviews, aggregate the reviews posted by their customers and analyze the most common words and phrases used in the text of the review," says Katerina Bojkov, Growth Manager at Embed Social. 
Katerina's approach is a tactic and has little to do with a particular tool. But what matters is that it's a great way to find the language your customers use to describe your product — also known as voice of customer (VOC) data.
Once you've collected the reviews, all you need to do is input them into a free bulk text analysis tool. "Most of these tools will generate a word cloud of the text you will input, plus they will allow you to find the most used keyphrases based on the number of words, so you can discover more contexts of the keywords searched," Katerina explains. 
Bonus Tip:
"
You can also use this tactic to see the language customers in other countries use and even discover topics to write in other languages.
"
5. SEO Minion 
According to Dozie Anyaegbunam, Senior Content Marketer at User Gems, SEO Minion is an overlooked keyword research tool when it comes to analyzing on-page SEO and finding broken links.
SEO Minion is a browser extension that can be used to carry out a variety of SEO tasks like on-page analysis, simulating multi-location SERP, etc. Dozie also uses SEO Minion to "scrape Google's People Also Asked when building briefs for writers."
Here's a screenshot from SEO Minion's website with an example of the results you could get: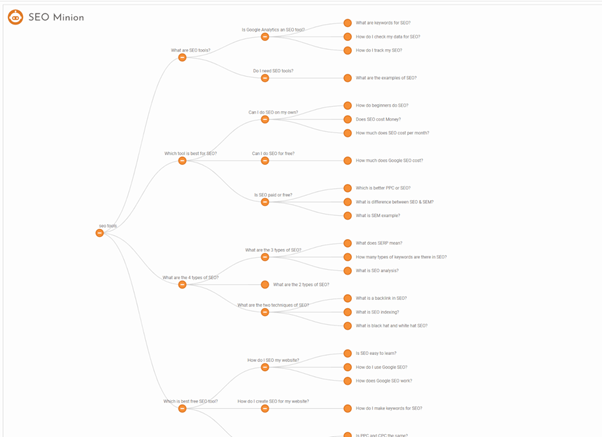 Bonus Tip:
"One of the best sources of content inspiration (especially for buzz-worthy content) is major magazine publications focused on your industry."
6. Sparktoro 
According to Freelance Content Marketer, Jodie Coher, "audience-centric searchers are the bread and butter of traffic in 2022 and beyond."
Her overlooked keyword research tool of choice is Sparktoro. And marketers who aren't using it yet "are falling behind." Sparktoro is an audience research tool co-founded by former CEO of Moz, Rand Fishkin. 
"By entering the typical search terms of your industry, SparkToro delivers additional phrases, demographics, social accounts, and even hashtags. Gathering these results and creating content that will resonate with your audience taps you into the 'dark web' of the customer buying journey," says Jodie. 
We took advantage of Sparktoro's freemium and ran a search for demand gen, and here's what we got: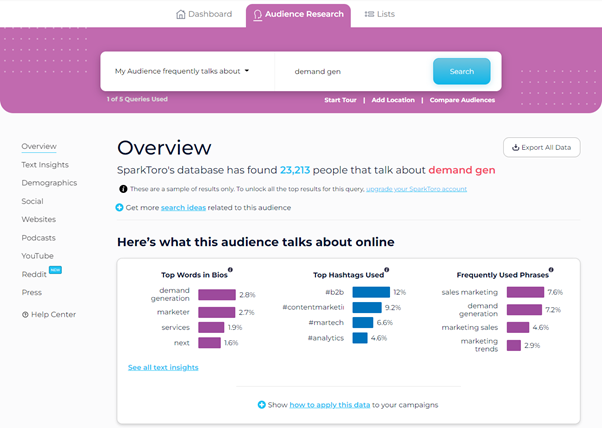 Bonus Tip:
Our free test only offers a glimpse into Sparktoro's features. The full suite of Sparktoro tools will show you who is searching for what and where these searchers hang out online. 
7. Google Keyword Planner
As you may know, Google Keyword Planner is a free tool mostly used by paid search marketers, but it can also be useful for content marketers. 
To complement paid SEO tools, SEO Copywriter Rachel Amies uses Google Keyword Planner to find additional keywords. 
"The information I get from using the Google Ads keyword planner helps me refine what keywords I should use. It's where I always start my keyword research," Rachel says. 
Bonus Tip:
"Always be updating previously published content — especially the high-performing ones. Upgrade your content in tandem with major industry changes and new research." 
8. Wordtracker 
"If you want a tool that gives you tons of keyword ideas, try Wordtracker," says Pushkar Sinha, Digital Marketing Manager at First Principles. 
Wordtracker is a self-described "market research tool" that combines "competitors' in-depth PPC and SEO insights, data from Google and a proprietary search technology."
Thanks to said proprietary search technology, marketers can get up to 10,000 keywords per search plus the search volume and popularity of each keyword. 
You can also choose to see PPC, SEO and even Google Search Console data. Here's a peek at Wordtracker's interface and the results we got when we ran a search for SEO tools: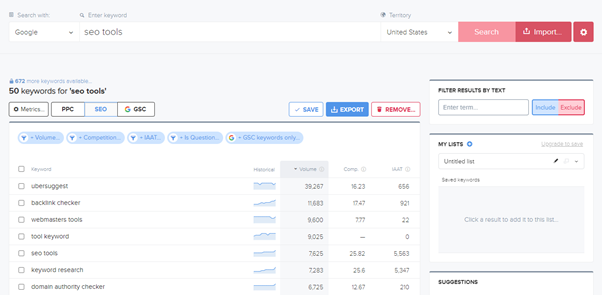 Bonus Tip:
"
Use Google Scholar's advanced features to find the most popular papers in your industry. These papers will provide you with reliable data and insights for your content."
9. Talking to customers and SMEs 
"The most overlooked keyword research tool is talking," says Andrew Spiers of Lens Digital. Yes, you read that right and we're pretty sure this is not your first time hearing this. 
"Every day we interact with prospects and clients. We have conversations and answer questions. These conversations and questions are a great source for keywords and from that, content," explains Andrew.
Based on our experience at Pointed, we've found that talking to customers is an often cited yet commonly underutilized way to discover content ideas. There simply is no replacement for the ideas that are unearthed in conversations with new prospects, current customers and even past customers.  
Using this method, we've helped several clients build content libraries filled with helpful content rooted in customer stories and SME interviews. Believe it or not, our clients have scaled their content marketing from 0 to 10, thanks in no small part to simply sitting down for a chat.  
Bonus Tip:
"If you attend trade shows or networking events, think of the interactions you have, write them down and then start to create content."
10. Google Search Console 
You know Google Search Console but we can bet you'd be amazed by how Brendan Tully, Principal Consultant at WP Speed Fix uses it to find keywords. 
"One super powerful keyword research approach we've developed is to do a word frequency count on keywords extracted from Google Search Console," says. 
Brendan and his team have experimented with this method with 200+ clients and frequently find BoF terms that are usually ignored in the SEO strategy.
According to Brendan, these are the exact steps to follow: 
Export keywords from Google Search Console into a Google Sheet — works best with 12-18 months of data. 

Copy the keywords into a word count tool. 

Paste the keyword count data into a Notepad doc or text editor — important to preserve the column formatting — then copy-paste it again back into a new sheet. 

You'll then have a list of the topics and phrases most used by searchers.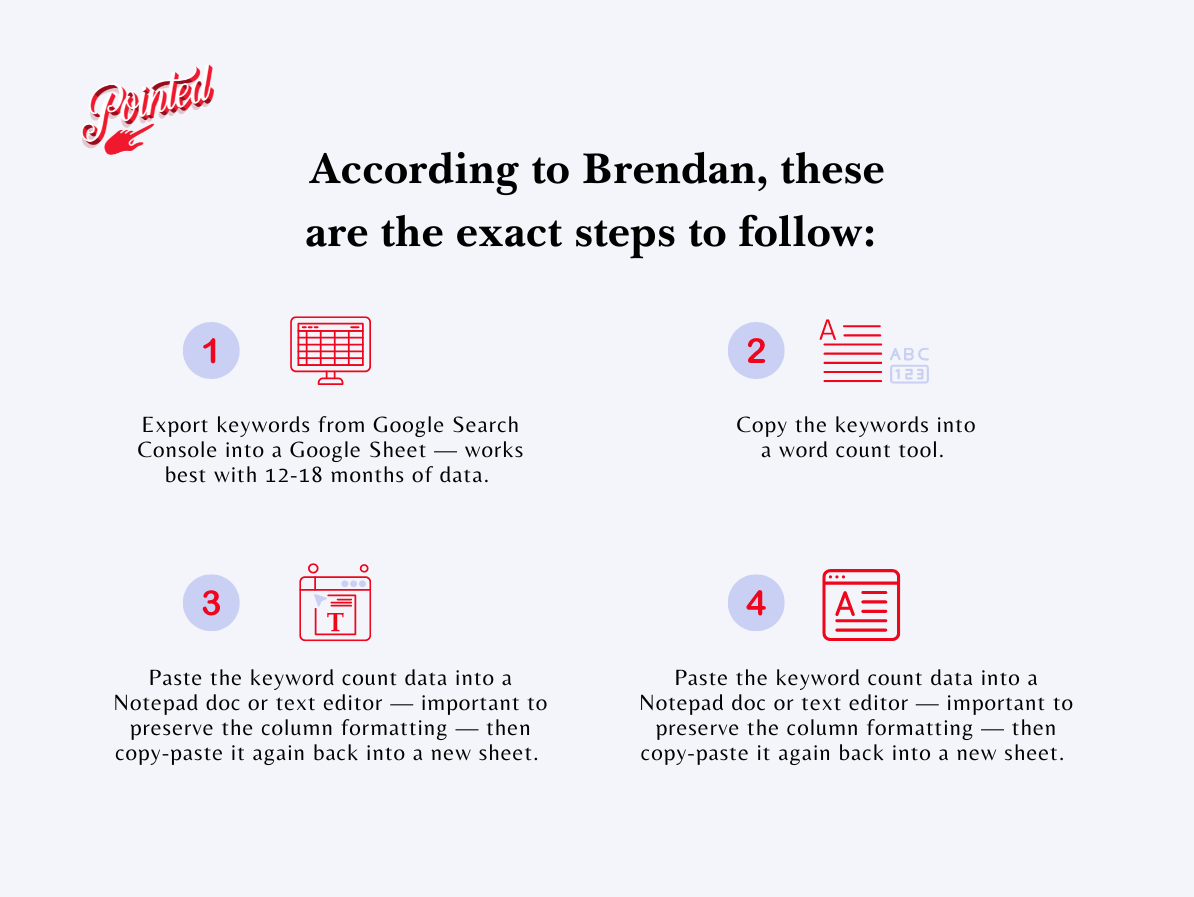 Bonus Tip:
"
The above method is a very fast way to identify topics as well as high intent and bottom-of-funnel keywords that may not have a lot of impressions but can boost conversions.
"
Keyword research is just the first step 
Keyword research tools are not a magic fix for content marketers. In fact, over-relying on these tools can cause serious problems for your content strategy. 
There are often discrepancies in the data obtained from each tool. And many a content marketer has missed out on creating relevant content, simply because the keyword was low volume. 
Ultimately, you need to understand that keyword research is only the first step in the topic ideation process. 
No matter how high your traffic goal, content marketers should always have an eye out for content that may be helpful to their audience — regardless of whether it's tied to a 'perfect' keyword or not. If it matters to your customer, it's worthy of your attention.
At Pointed, we produce high-quality B2B content that drives qualified traffic, leads and sales. If you're ready to take your SaaS or business brand to the next level but aren't sure where to start, we can help. Schedule a chat today!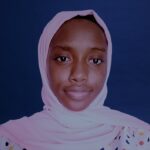 Mujidat is a freelance copywriter & editorial assistant for Pointed. She works with funded B2B SaaS & tech brands to map out a strategy and create content that aligns with their marketing goals and drives ROI.